Ferdinand Magellan explored the world in search of Spice Island (Moluccas). An expedition that surely leave marks in the history of the world.
That only shows that Spices are so valuable way back ancient times.
CHIGAS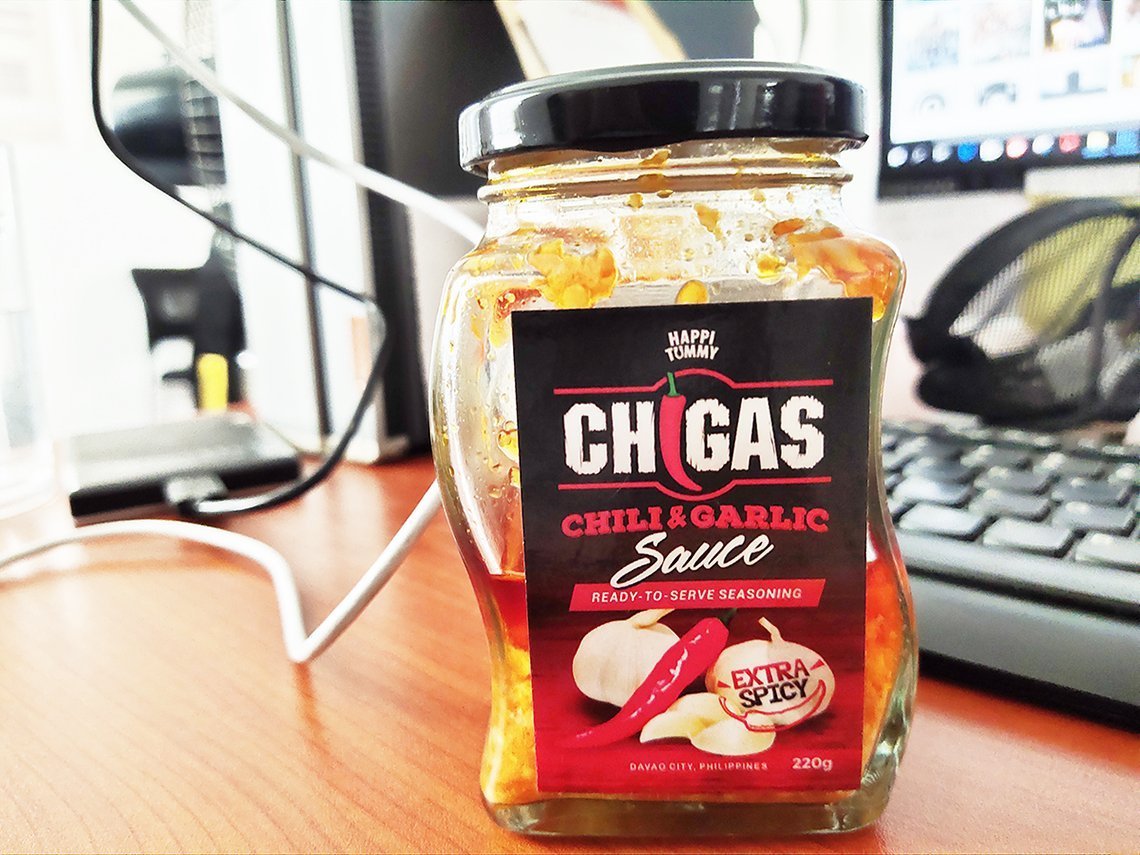 I was looking for another sauce that will spice up my eating game then @chigasph happen!
I am so excited to share with you guys the sauce that I didn't know I need it till I tasted it. 😋
I always use this as a dip with any food. I am half way in finishing the extra spicy sauce.
Chigas is short for Chili and Garlic. An original and quality product of Happi Tummy Foodstuff, Inc in Davao City, Philippines.
If I will compare this sauce, its like a siomai sauce but way way better. It is a must must try sauce. I gave some to my family and friends. They said that they also loved it too.
Choose from 4 Flavors
1. Original Flavor is somewhat spicy but its tasty and yummy. It has garlic that really adds taste to the sauce and makes me want to eat it on its own. This is good for any kind of meat by the way. I really add this on any food I eat. 😂
2. For the Extra Spicy Flavor, damn! You need to have some milk beside you cause for sure it will set your mouth on fire. Not for the weak of heart! Also, I only add a small amount of this sauce. ⠀
3. Kalamansi Flavor, my favorite of all the flavor. The kalamansi balances the spices that comes with it. My go to in every food. ⠀⠀
4. Spicy Dilis Flavor is the one with fish. I did eat it on its own too coz fish is life for me! As what we always say " Sauce palang ulam na!"
Natural Benefits of Chili and Garlic
✓ Good for the heart
✓ Burns fat and lowers cholesterol level
✓ Speeds up metabolism
What are the variants of Chigas?
🌶 Chigas Original 220g & 100g
🌶 Chigas Kalamansi 220g & 100g
🌶 Chigas Spicy Dilis 200g & 100g
🌶 Chigas Extra Spicy 220g & 100g

Where to Buy Chigas?
🏪 MINI MARTS
⭐ A-Mart Country Meatshop – Tulip Drive, Matina (beside Dugout Restaurant)
⭐ Shell Select – Corner Matina Enclaves, Ecoland
🏢 MALLS
🌶Felcris Centrale | Food Rackers 2nd Floor – Quimpo Boulevard
🌶Felcris Centrale | Maria's Cafe Upper Ground Floor – Quimpo Boulevard
🌶GMALL – Belgian Waffles 3rd Floor
🌶GMALL Davao Grocery – Bajada (Lane 20)
🌶GMALL Toril Grocery
🌶NCCC Mall Buhangin Grocery
🌶NCCC Mall Uyanguren Grocery
🌶NCCC Mall – Victoria Plaza Grocery
🏬 DISPLAY STORES
🌶SM City Ecoland Terminal
🌶Beauty Hub – Loyola St. fronting Blooming Days
🌶HappyFit Nutrition Hub – Torres St. at Plaza de Bole
🌶JS Illustre Time Square – Lemonaddicts
🌶Martish Store – Bajada fronting Camella Northpoint
🌶Matina Wet Market – Rice Section, Zamorro Store going GSIS
🌶Zara's Lechon – Diversion Road Buhangin
🍽RESTAURANTS
🌶Alcohall – Dacudao
🌶Café Demitasse – Torres St.
🌶One Garnet – Garnet St. Marfori Heights
🌶Majestea – UM Matina
🌶Tatang's – Jacinto Extension
🌶Teacof – Matina Town Square
🌶Telaweza – Bacaca Road
🌶Yellow Fin – Ecoland
🌶Yellow Fin – Lanang, Phoenix MegaStation
🌶Yellow Fin – Torres St.
⛲LAUNDRY SHOPS
🌶iLaundry Hub – Cabantian
🌶iLaundry Hub – Matina Aplaya
🌶iLaundry Hub – Puan
🌶iLaundry Hub – R. Castillo
🌶iLaundry Hub – Buhangin
🌶iLaundry Hub – Bacaca
🌶RAMRAC Laundry – Sta. Teresita Poblacion Diversion Road Buhangin
Follow them on instagram and facebook.
What is the Suggested Retail Price?
Php 185 – Big Bottle
Php 95 – Small Bottle
How to purchase wholesale order?
Please send Chigas a message to cater your wholesale order with discounts.
My Verdict
Every household should have this. It is so healthy and has many benefits. Also good for the spicy lovers. Ready to serve seasoning for snacks or any foods. (tried and tested by me).
Oh by the way, its halal certified gals. For the non-meat lovers, try this out too. This might be the one you're waiting for.😉
Note: Just use this in small doses. It can be addicting.

Perfect sauce for any occasion! Spice your eating game!
Always remember to "Develop your One Days to Day Ones!"
XOXO,