I have a moisturizer that acts as my sunscreen but it has an SPF of 15.
So, I have decided to try this Belo's SPF 40 Sunscreen because why not?
Higher spf means high level of protection from suns UVA and UVB rays.
Before anything else, SPF means Sun Protection Factor.
SPF is a measure of how long a sunscreen will protect you from ultraviolet (UV) B rays. The main cause of reddening and sunburn, UVB rays tend to damage the epidermis, skin's outer layers, where the most common (and least dangerous) forms of skin cancer occur.
BELO'S SPF 40 SUNSCREEN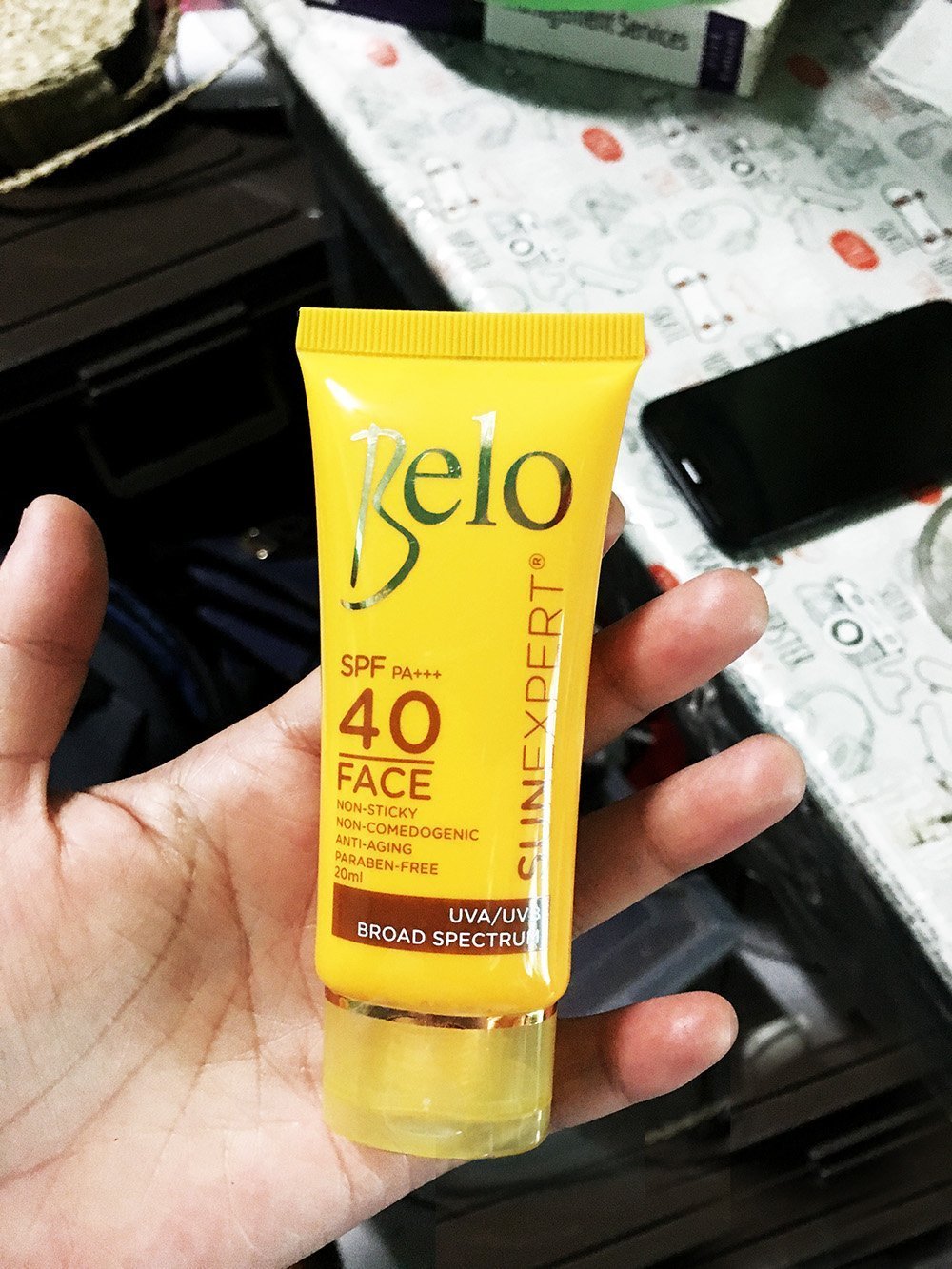 After using this for 3 days, my face feels more protected from the sun. I can't actually feel that I have sunscreen on my face considering its spf 40. It is super lightweight tlga!
Also, my skin is oily and sensitive which means that it does not adapt to just any kind of brands. So far, breakouts are not occurring.
Non-sticky is what the label says and I agree with it. Applying it with bare hands to the skin is what I mostly do. If I will rate the stickiness factor from 1-10, then I would say 2. Almost 1.
When it comes to fragrance, the belo's spf 40 sunscreen does not have one. Although if I keenly smell the liquid, it has but almost unrecognizable which is actually good. This pretty good for someone like me that gets dizzy when I smell some scented things.
WAIT!!
Did I say that it is non-comedogenic and paraben free sunscreen? Confused? Here is a little description of it.
Non-comedogenic refers to a product that is formulated to help reduce potential blockage of pores. Blockage of pores can cause whiteheads and blackheads. While paraben are group of compounds used as preservatives and are known to disrupt hormone function. 
USAGE:
As the label says, apply liberally onto face before sun exposure. Re-apply as needed or after extreme water activities (since this can be washout), toweling, perspiring or prolonged sun exposure
OVERALL
I must say that it is for me. It suits my skin. I just hope that after applying this for a week or so, breakouts are nowhere near to be seen.
Have you tried the Belo's spf 40 sunscreen?
If yes, How was it?
If no, TRY and do the SWITCH.
I wanna thank @sampleroomph for the free sample of this product. You can follow them on instagram under @sampleroomph or visit their website at sampleroom.ph for a free sample. Get yours now!