I have been to many different places in the Philippines but never been able to go outside of the country. But luckily, a friend of mine told me that she was going to Hongkong and Hongkong being one of the top things to do in my bucket-list made me say "Yes!" in a heartbeat.

I went there during Christmas time and got to see Sleeping Beauty Castle in Hongkong Disneyland before it will be upgraded to a new castle.
Disneyland Hongkong is a one of the 6 Disneyland Theme Park created all around the world.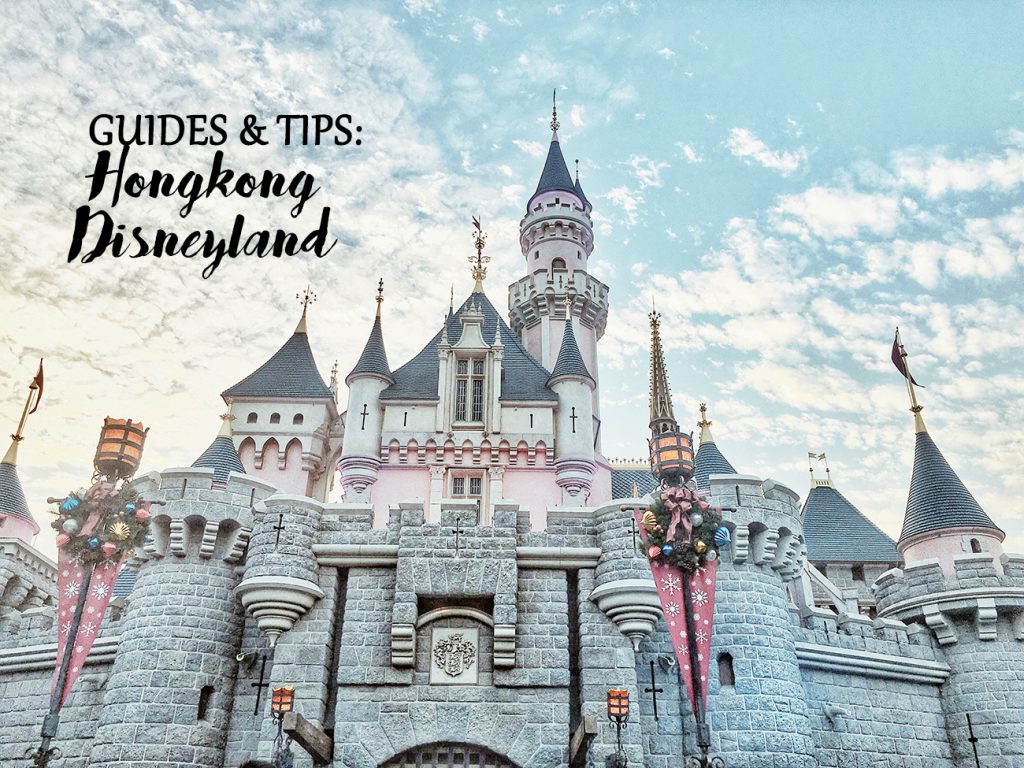 ---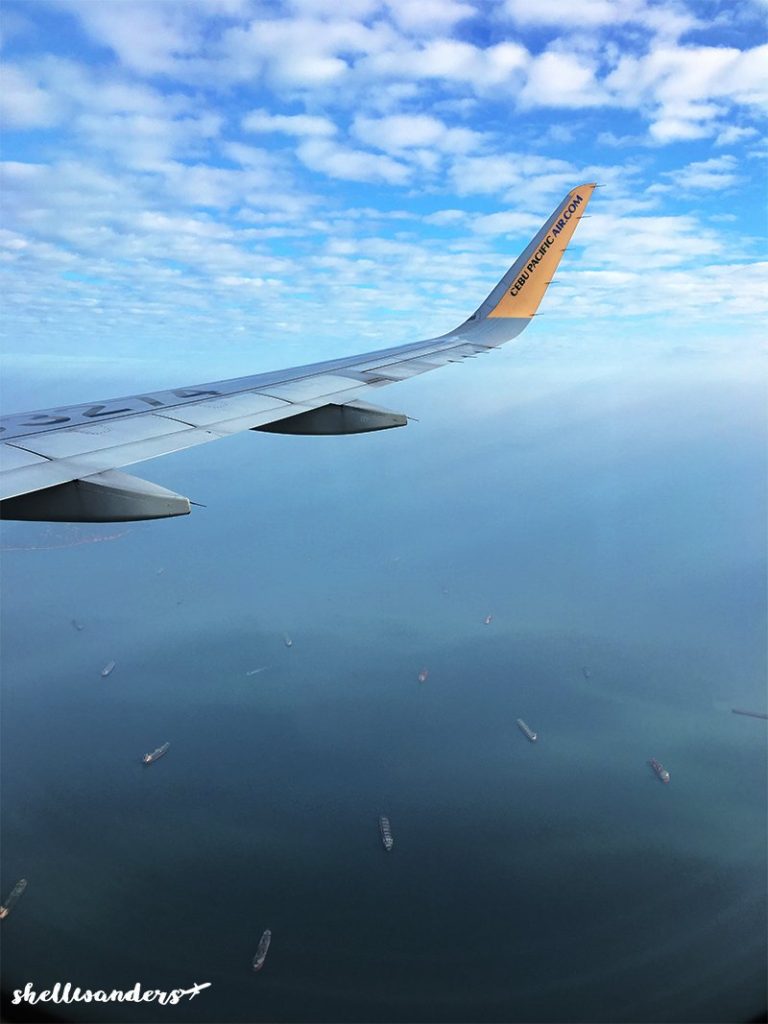 Minutes before arriving at Hongkong International Airport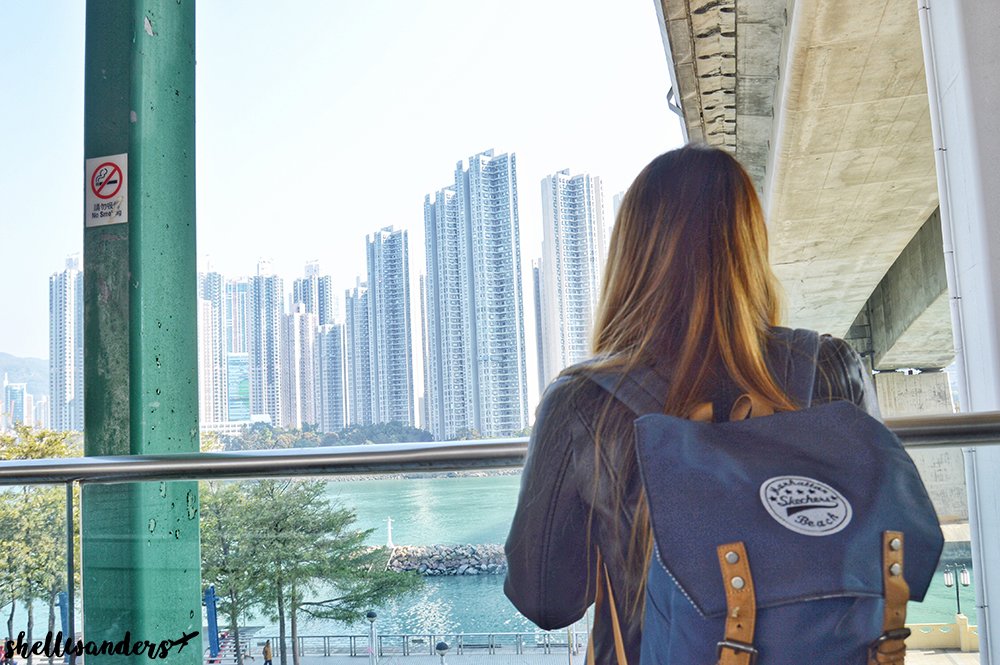 In Hongkong Tsing Yi Terminal overlooking to the Tall Buildings.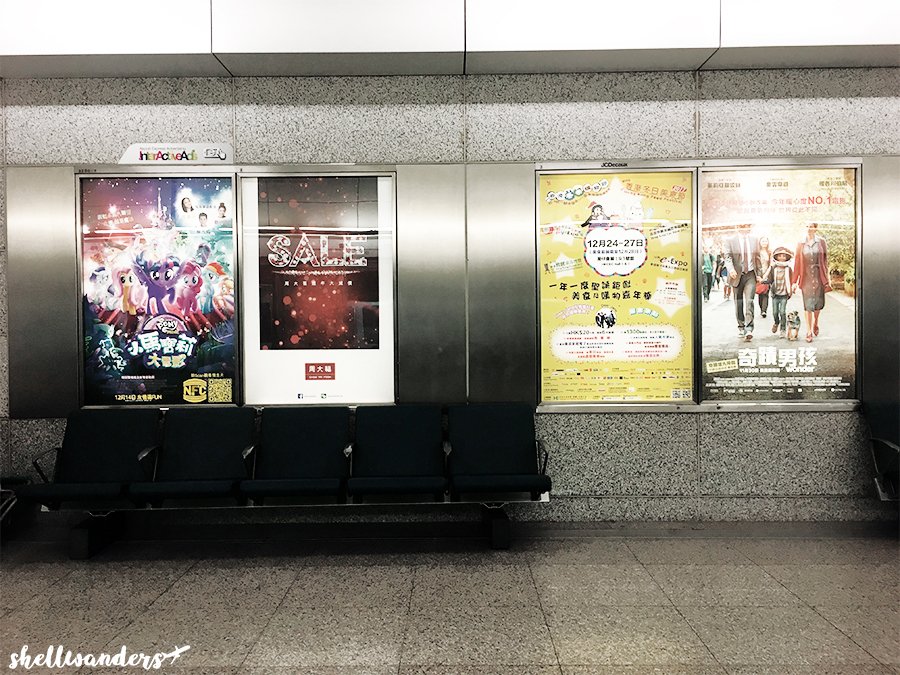 Hongkong Terminal Side Posters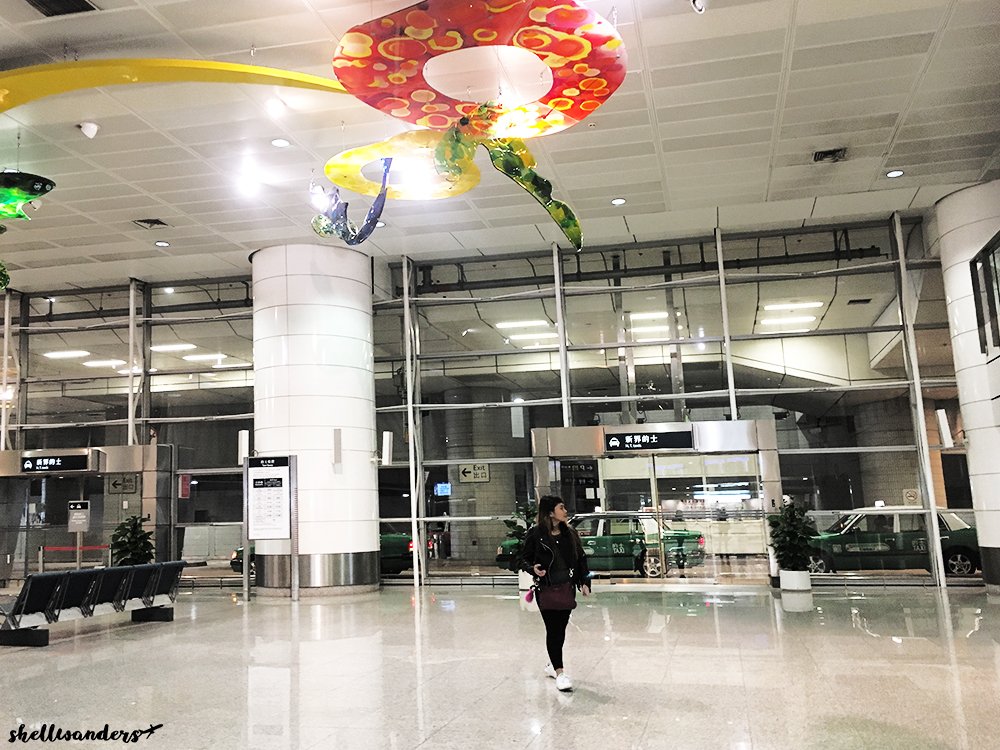 PRE-TRAVEL GUIDE
Where to buy Hongkong Disneyland ticket?
I ordered in klook . All I can say is that purchases are legit. They offer great deal in every tours that are available in that country plus its very cheaper and less hassle. Their website or app is easy to use. All in one for a great price and deal. Normally costs around HK$3491 (approximately $446).
Where to stay?
I suggest you use AirBnB if you are looking to rent for houses or apartments that are affordable/cheaper yet comfortable.
Where to best exhange currency?
The best rate you can find will be through your local bank. (P.S. Do not exchange in the airport because the rate will have a big difference.)
Do I need visa to enter Hongkong?
If you are a Philippines Passport Holder like me then you do not need too but be sure that your passport is valid for 6 months counting from the first day of your travel date. For more information check it here.
HOW TO GET TO HK DISNEYLAND?
By Bus
Kmb bus and Long win bus are available. Visit their website for more information on how to find your way without hassle.
Also, Kmb bus has an app that you can now officially download and use to get real time bus schedules.
Fare spent will be PHP 70 or HK$10 – PHP 167 or HK$25.
By Taxi
You can ride a taxi anywhere in the city and this is the very fastest transportation without hassle.
Personally, I do not want to recommend this kind of transportation because it costs a lot. Like A LOT.
By Subway/MTR
All you need to do is ride the MTR Tung Chung Line colored Orange in the map.
Then stop at Sunny Bay Station colored Pink.
After that, you may catch Disneyland Resort Line to Disneyland Resort Station directly.
Expenses Info's
Tung Chung Station – Sunny Bay Station = 10 mins travel time =PHP 69 or HK$ 10.3 for octopus card holder
Sunny Bay Station – Disneyland Resort Line = 6 mins travel time = PHP 41 or HK$ 6.1 for octopus card holder

Disneyland Resort Line – Disney Resort = 3 mins travel time
A total fare of HK$ 16.4.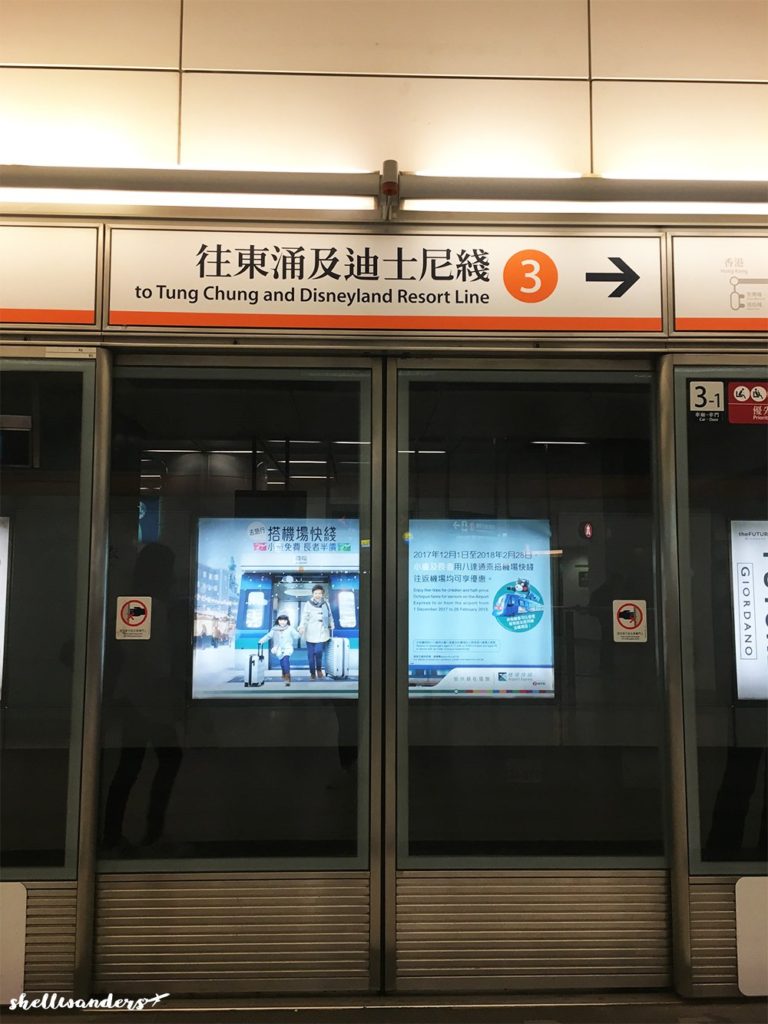 Tung Chung Line Orange colored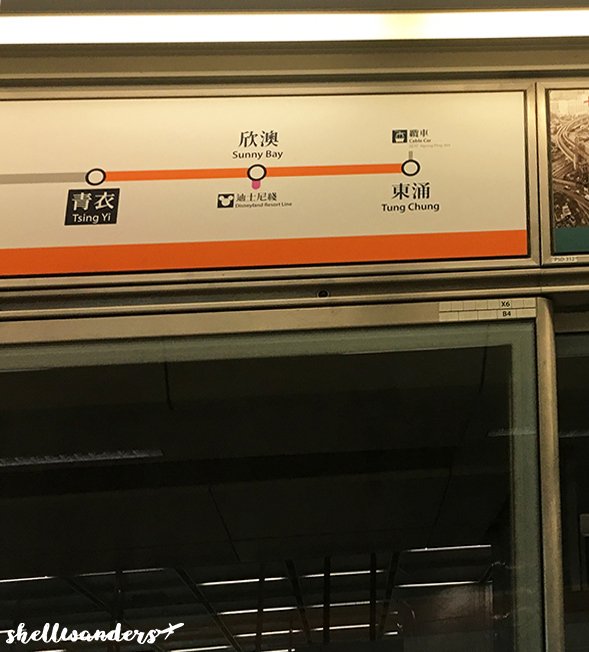 Tung Chung Line Orange colored line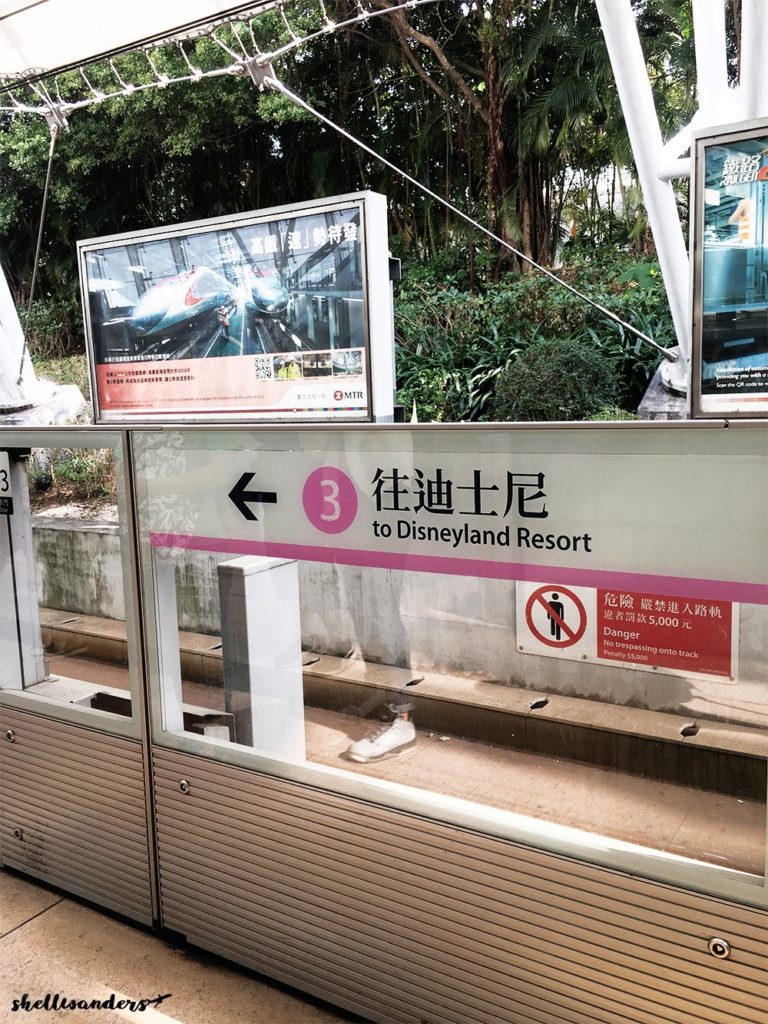 All aboard the Hongkong Disneyland Train
NAVIGATING YOUR WAY INSIDE HK DISNEYLAND?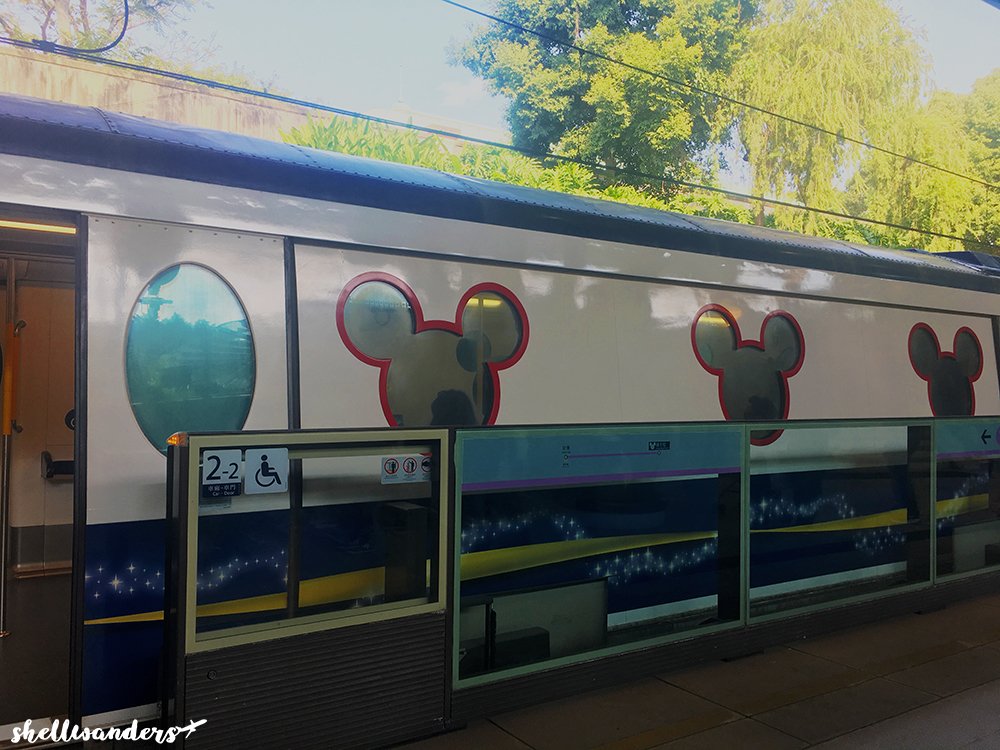 Of all the blogs I have read, none seems to say that it is okay to go to Hongkong Disneyland in the Afternoon. So here I am, deviating from all of them. I personally will recommend that you can go to Disneyland in the Afternoon and still can ride the exciting rides in one day but please plan ahead the rides that you want to ride so that no time will be wasted. *wink wink*
You wouldn't want to miss rides, right?
Prepare this following items.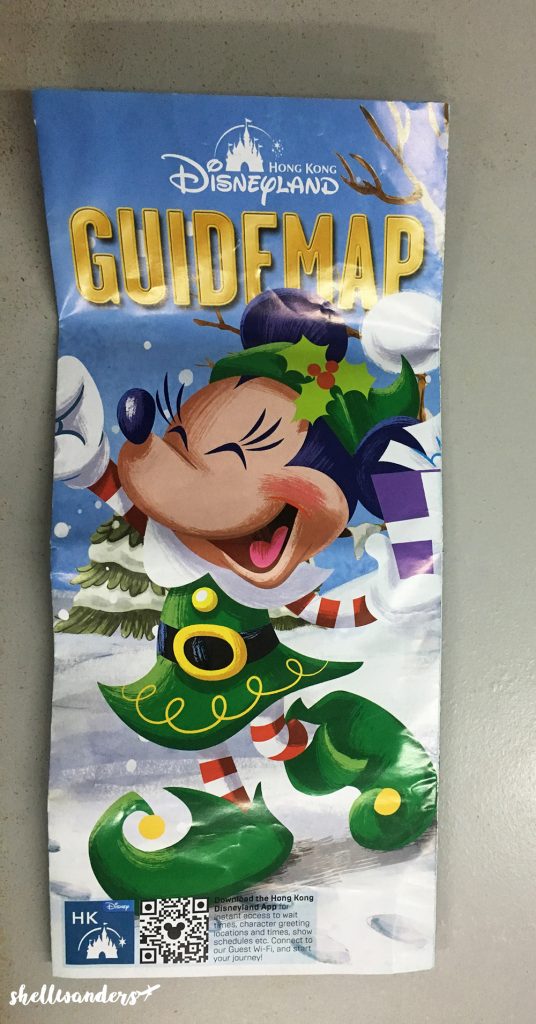 Printed Map. This map was during Christmas.
Maps are readily available for you to navigate your way inside Hongkong Disneyland. This can be seen right side after the front gate.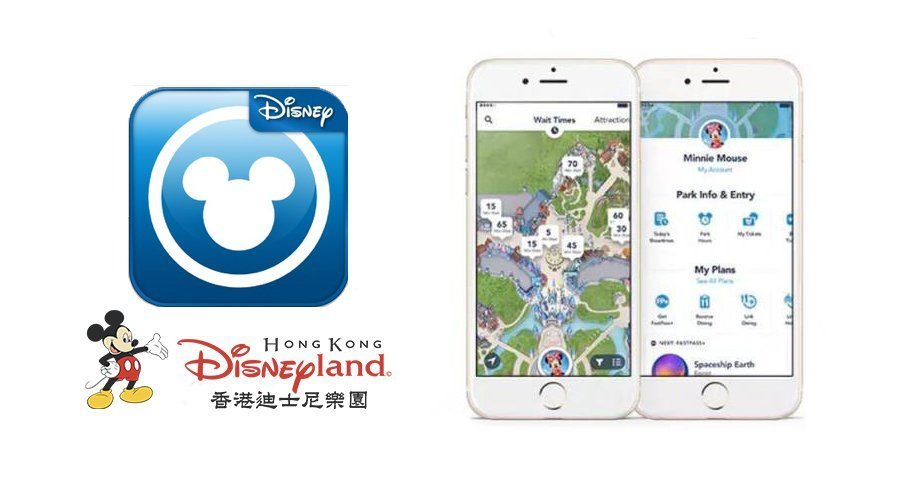 I recommend using this app so that all the waiting times and events that are happening for the day can be manage without stressing yourself out.
FAST PASS (OPTIONAL)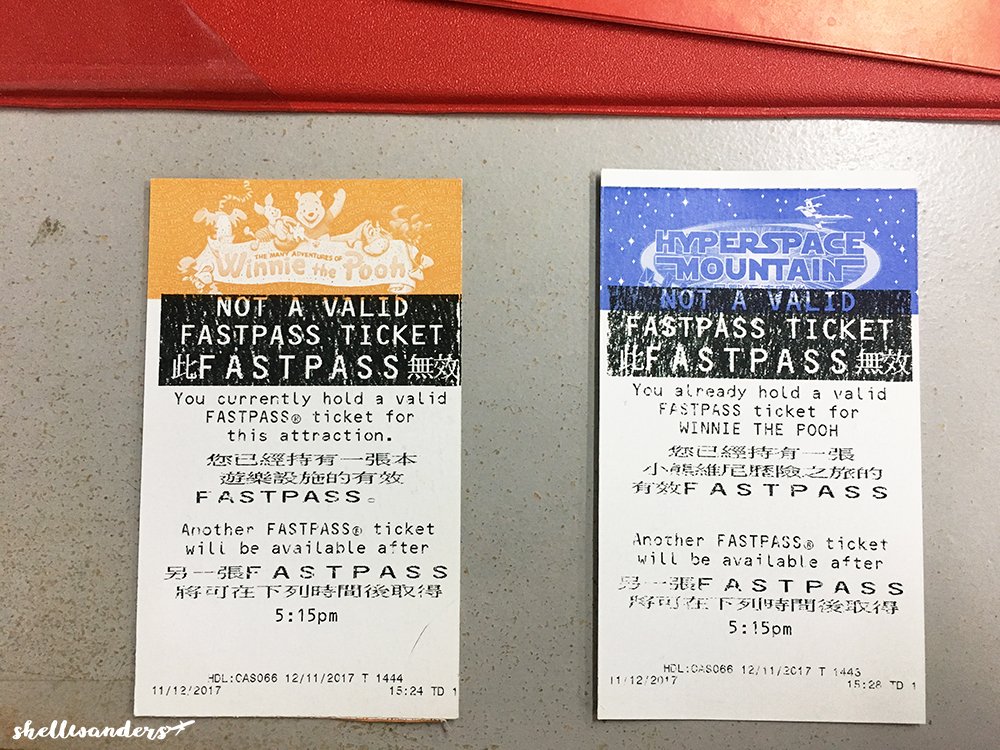 What is a fast pass?
Fast pass is a complimentary service to help you save your time. It will give you a designated return time so that you will not wait in the long queues.
How many rides have fast pass?
Currently there are 3 rides available that uses fast pass. Namely Hyperspace Mountain and Iron Man Experience that can be found in Tomorrowland and the other one is The Many Adventures of Winnie The Pooh in Fantasy Land.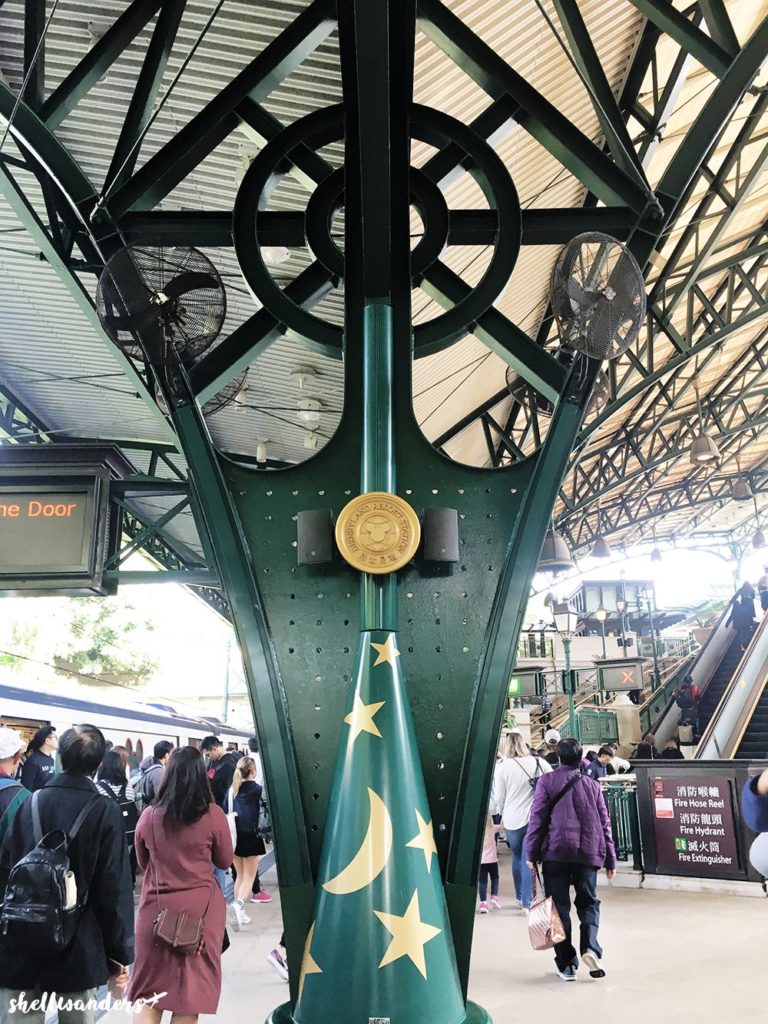 Hongkong Disneyland Guides and Tips : Christmas Celebration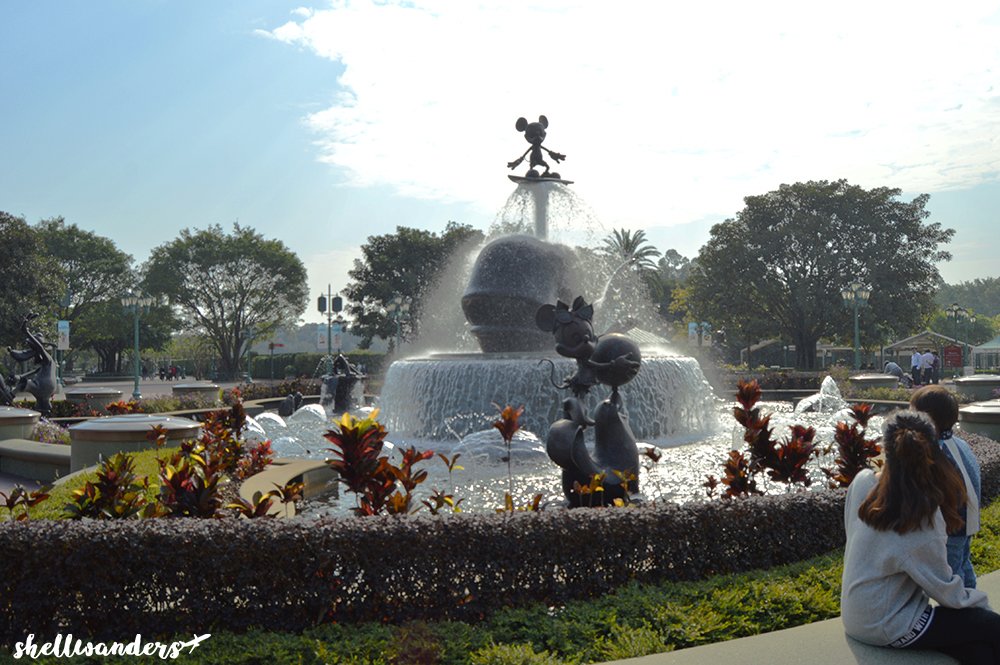 You are all set-up and ready to go!
Oh! Before entering Disneyland, let me say that the trains or the MRT are magnificent itself and it feels like it has taken me to a place, YES, a magical place that I have long dreamt of.
It has so many hidden mickeys that are not actually hidden. It gave me goosebumps. It gave me so much good feeling.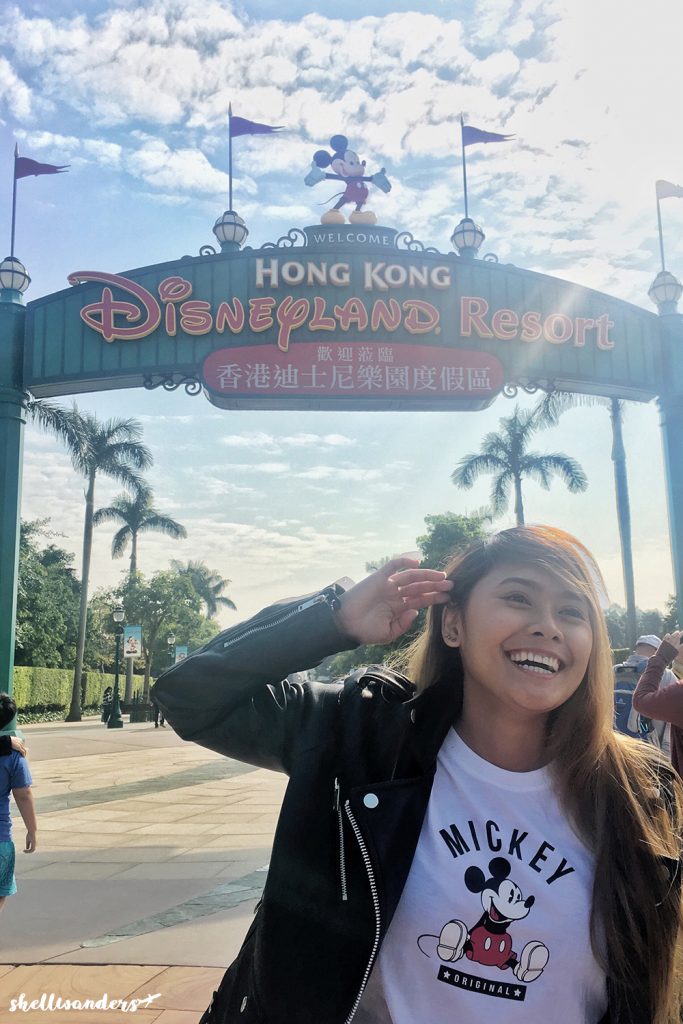 By the way, the entrance ticket looks like this when I got there.
After scanning your ticket, an actual ticket is given that looks a lot like this.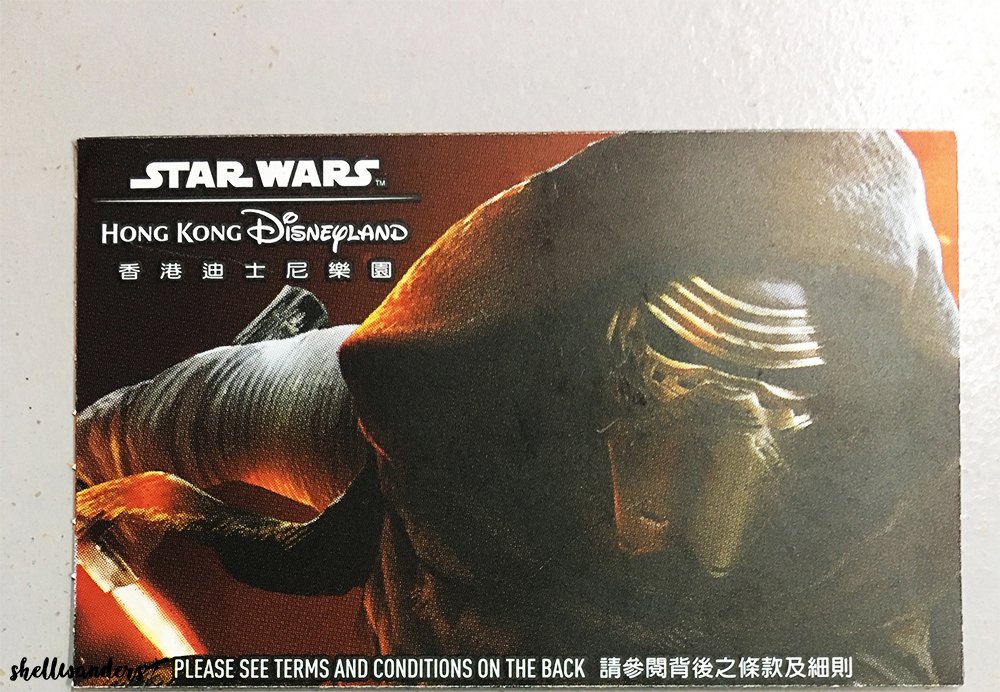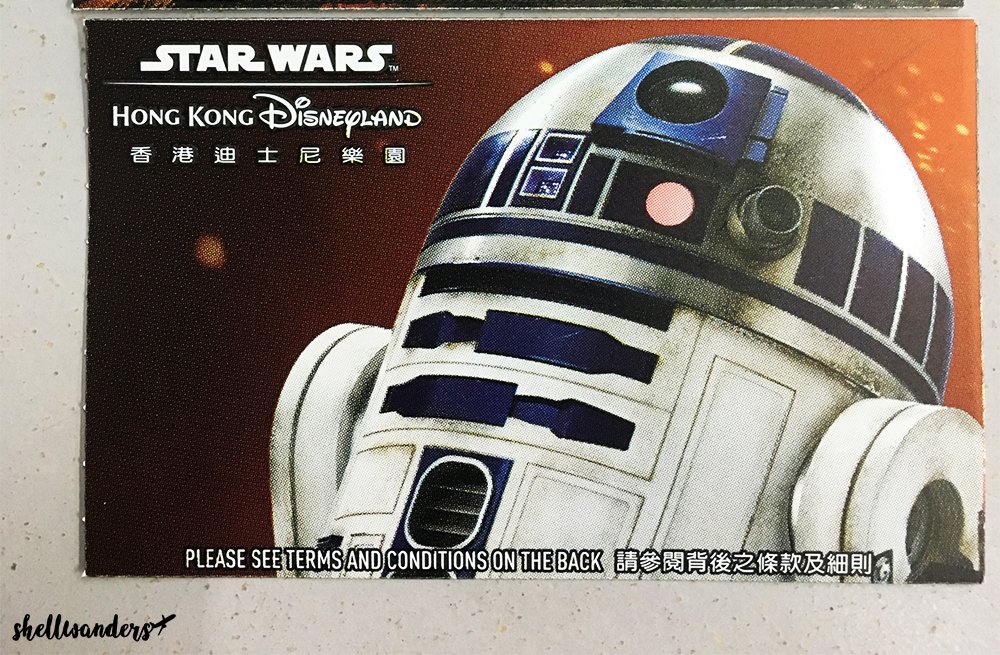 and another Star Wars character!
Before getting the printed map, a ranger (this is a person but I happen to know that's what they are called) approached me and asked me something like age and personal details about me.
Do not skip or be rude to them because after all the questions , you're in for a REAL TREAT! Yep, you heard me right. A TREAT!
Ask me what treat!! 🙂

With all the planning that I did and blogs that I have read, I came up to a solution to visit Main Street, U.S.A to admire the Christmas tree, the booths and so many more things that an eye could not possibly see and indulge in just one look. After that, I went to Adventure land and rode the Jungle Cruise. The waiting time was around 10 mins. Elephant status kinda-ish and the animals I saw in tarzan were present. It was a fun experience.
Then I went to Fantasyland to see my favorite ride "carousel" and attempt to ride but never got the chance. Then, I collected fast pass tickets for Winnie the Pooh, Hyperspace Mountain in tomorrowland and Ironman Experience in tomorrowland.
Evening came and I would like to suggest that you stay for the evening parades and fireworks because it is very very awesome! I have a video of it and I would like to share it with you if I can upload it anytime soon. But for the mean time, here are some photos that my friend and I took.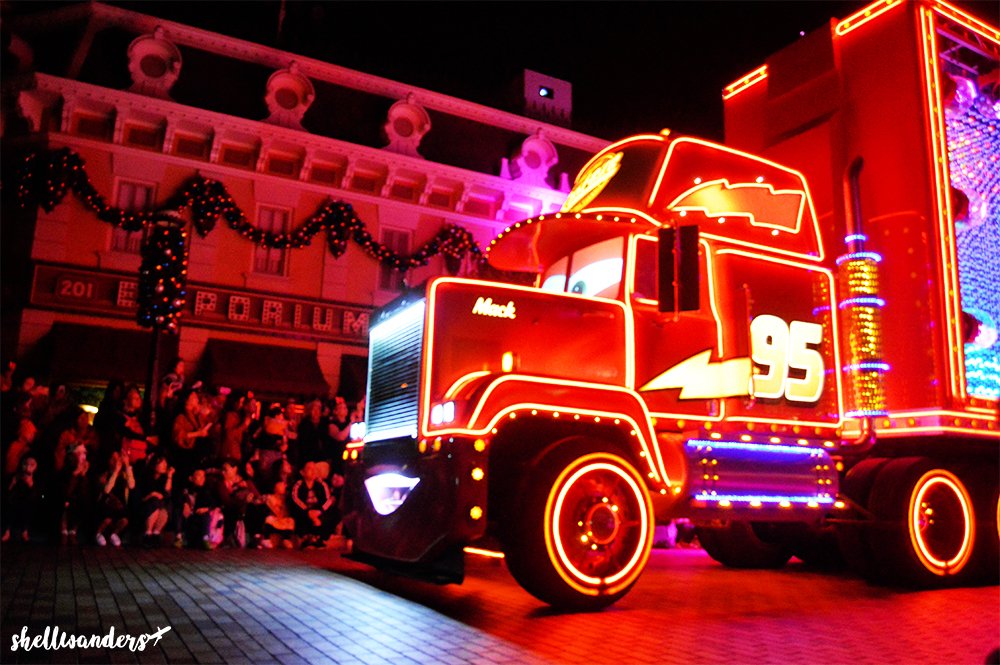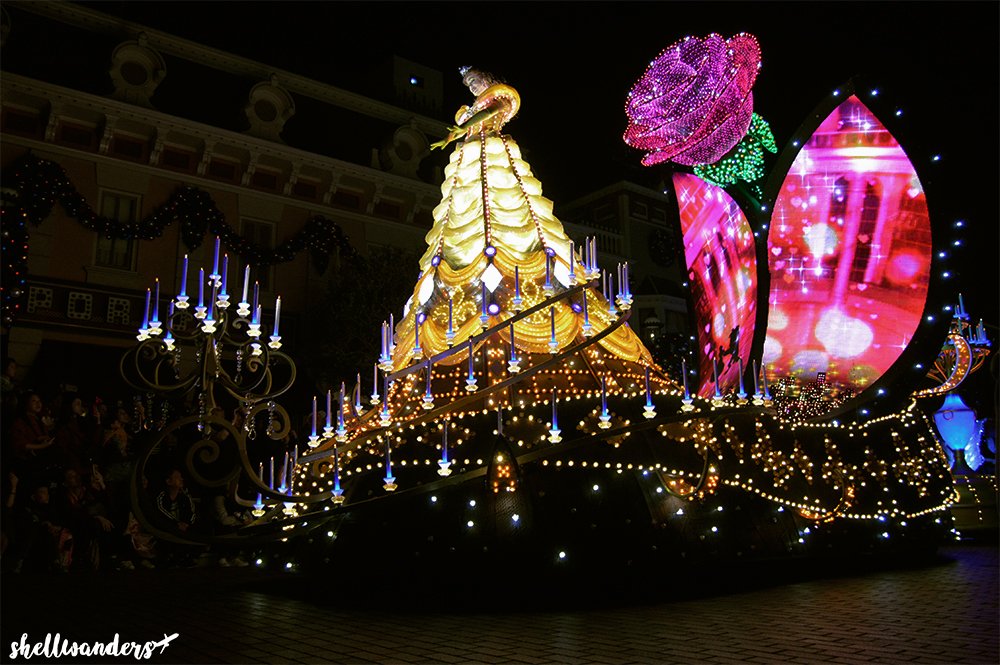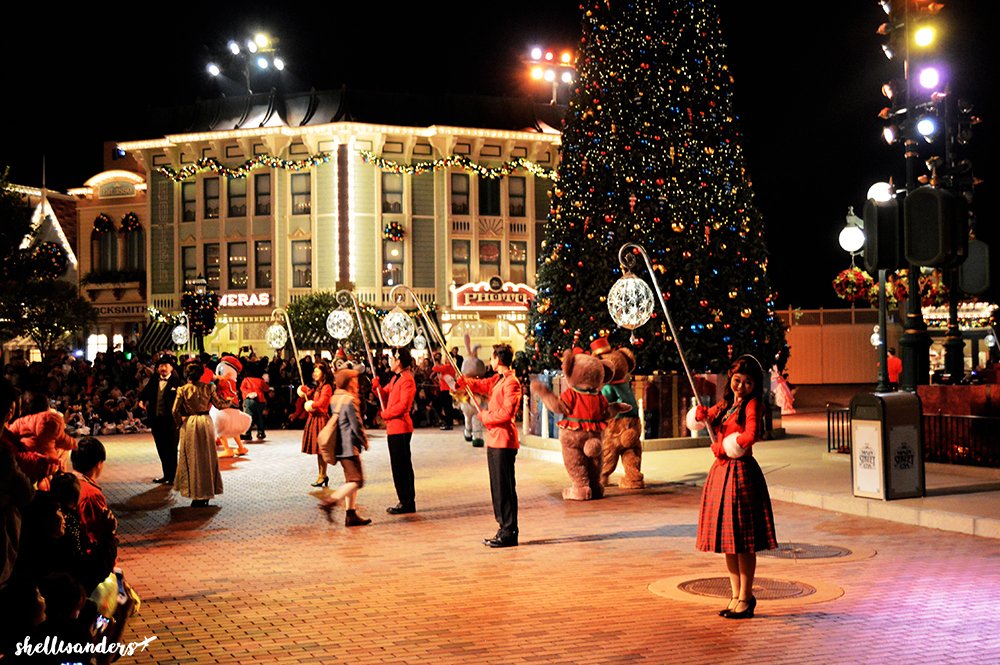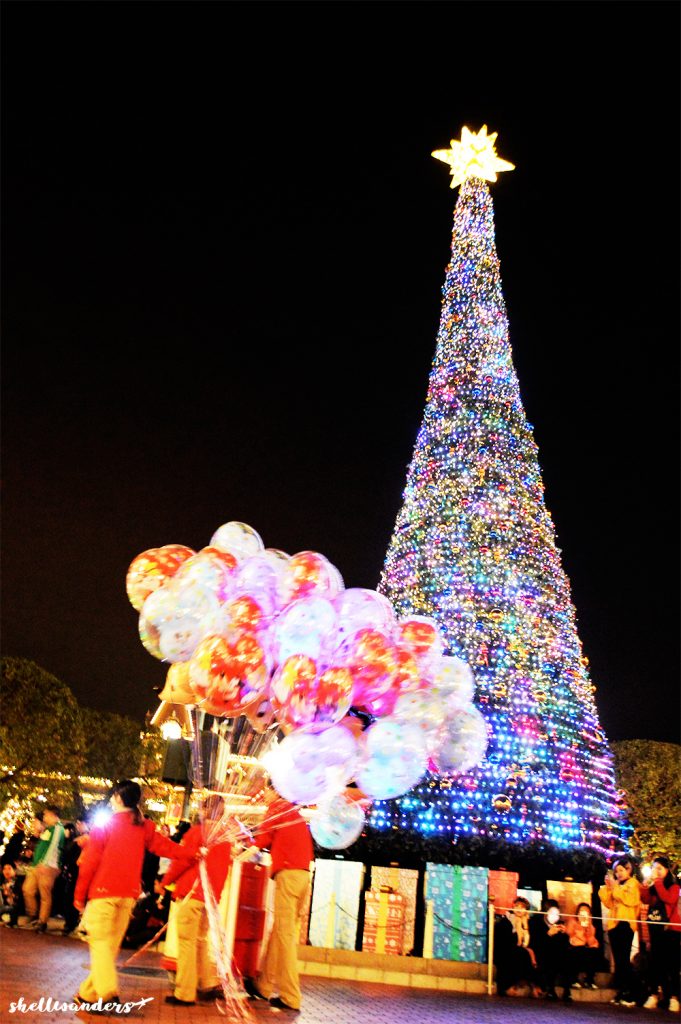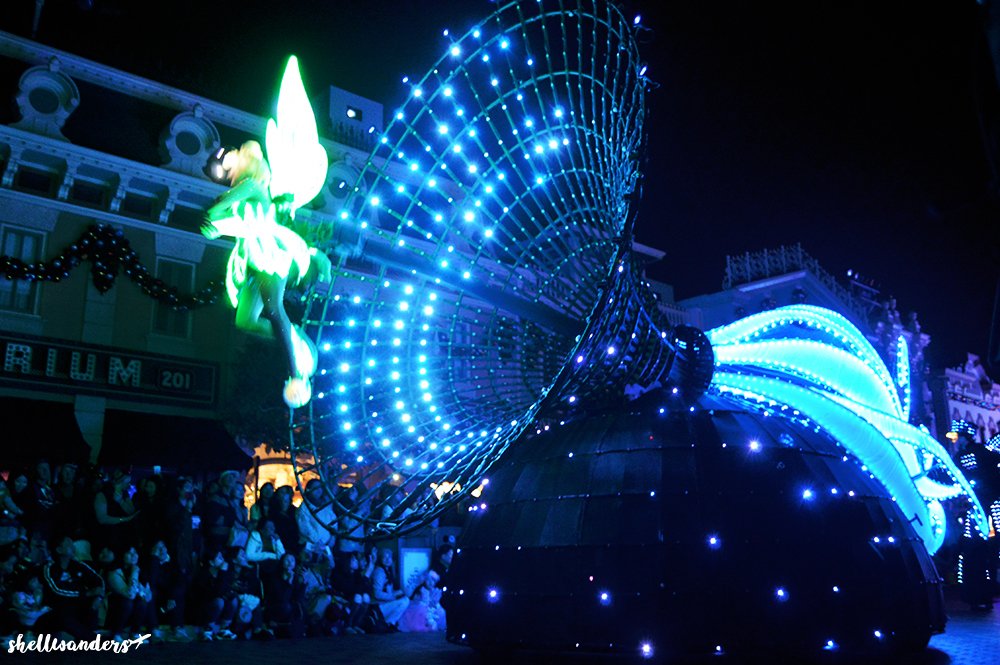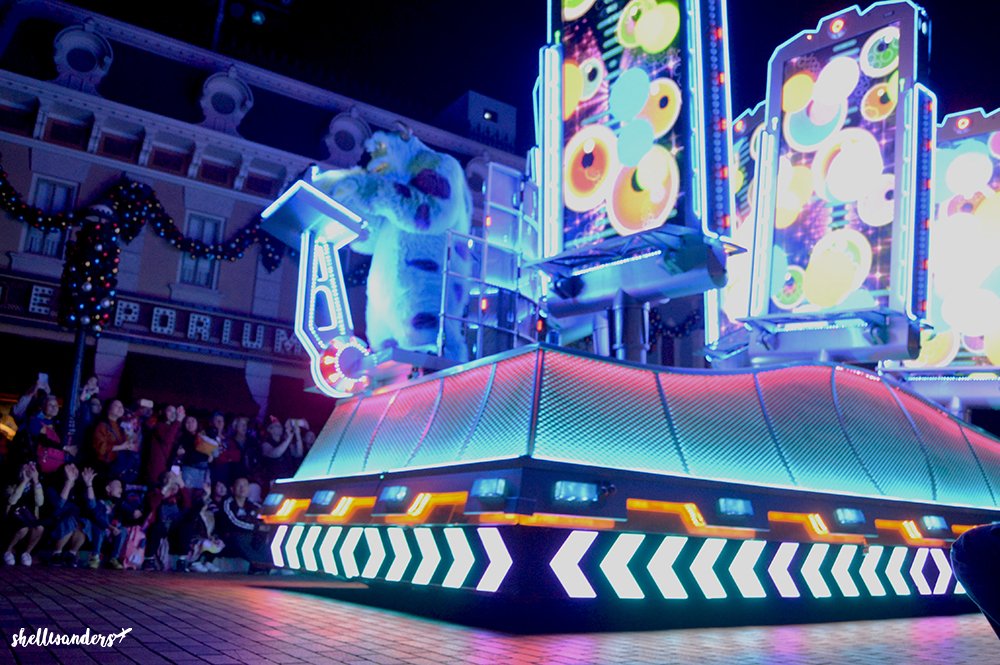 7 Theme Lands in Hongkong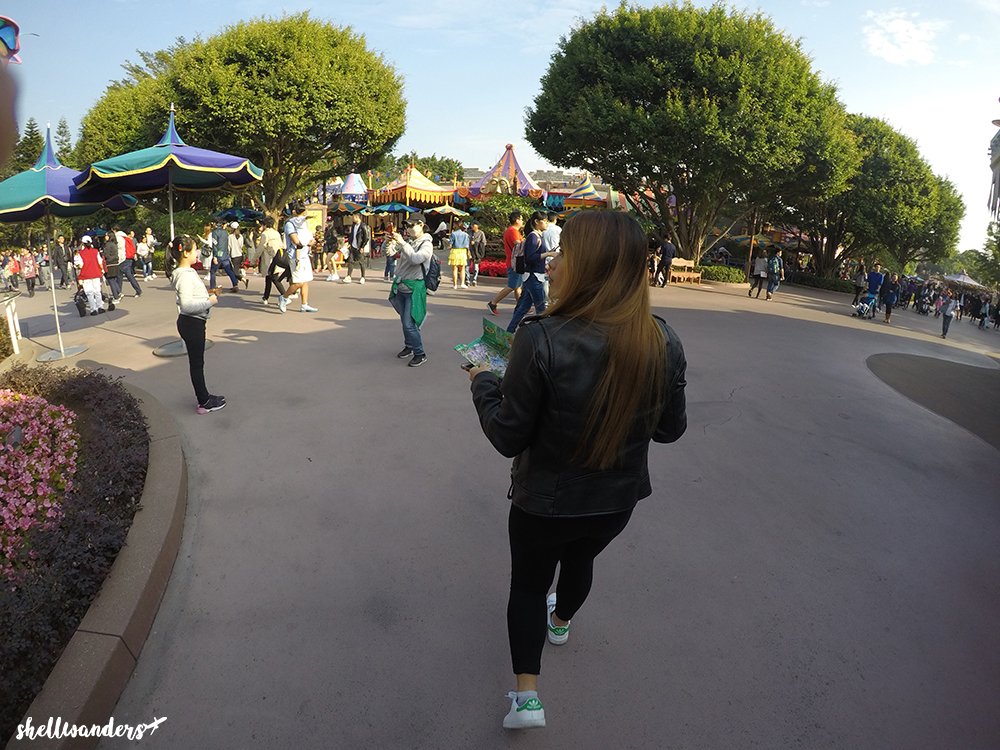 Main Street, U.S.A
Home of the famous Main Street in Disneyland. This serves as the welcoming area in Disneyland just past the train station/railroad. It composes of the Hub or the Central plaza and the Town Square.
This area has 4 main attractions that you can visit.
Animation Academy -Animation Academy itself is a 20-minute drawing session with a Disney artist who teaches guests to draw a Disney character. You may bring your own artwork home if you want after the drawing session.
Art of Disney Animation – This is where the drawings that you or the animator drew comes to life. This is where the magic happens. The heart of the animation industry in Disney. You can also learn about how the Disney cartoon or animated movies are made.
Hongkong Disneyland Railroad– "choo choo" says the train. A 20-minute trip aboard a steam powered train. Riding this train gives you an automatic overview of all the main lands in Hongkong Disneyland Park.
Main Street Vehicles– Ride a vintage vehicles. Cruise up or down Main Street.
Other attractions :
The Annex – Make a Holiday Wish with Santa Goofy. Meet Santa Goofy and send designated postcard via Santa Goofy Holiday Mailbox.
City Hall – Guests Relations and Park Information.
Plaza Grounds– Royal Princess Garden. Meet with Disney Princesses or enjoy regal makeover at Bibbidi Bobbidi Boutique.
Adventure Land
After Main Street, U.S.A. ,turn left if you want to go here. This theme land has a Tarzan-ish vibe. In this part, you will see so many animal statues.
This theme land has also 4 main attractions that you can totally enjoy.
Jungle River Cruise– One of my favorite rides in Disneyland. Embark on an 8-minute cruise in the waters of the theme park. In here , you can see some baby elephants. You can see and experience an spectacular fire breathing cave, the gorillas in tarzan and hippopotamus opening mouth.
Rafts to Tarzan's Tree-house – You will ride a log raft in order to reach Tarzan's Tree House and do the walking tour.
Tarzan's Tree House– Climb to the treetop home of Tarzan.
Liki Tikis- Sway to the beat of jungle rhythms by the "leaky" tiki poles.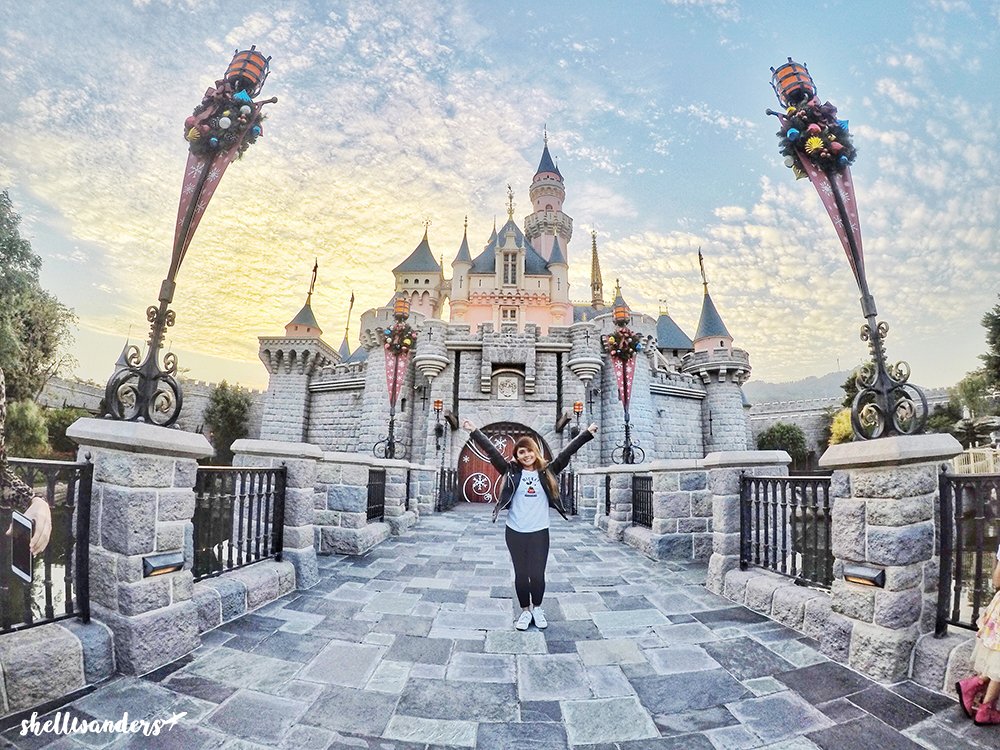 Grizzly Gulch
After Adventureland is the Grizzly Gulch. It has a rocky mountain feeling of theme land.
This theme land has 2 main attractions.
Big Grizzly Mountain Runaway Mine Cars – You will ride on the mine cars that will run through the town og grizzly gulch. It has a minimum height requirement which is 112cm.
Geyser Gulch– It has an active geysers that will soaked you so Beware!
Other attraction:
Wild West Photo Fun – Have some photo opportunity in all of the 3 wanted posters, an old empty jail and the gold in grizzly gulch.
Mystic Point
After Grizzly Gulch comes Mystic Point. A horror vibe is fleeting in this theme land.
This theme land has 2 main attractions.
Mystic Manor – Explore Lord Henry Mystic's Manor. Ride the Mystic Magneto-Electric Carriage to view an art collection. Learn and live the history of Mystic Manor. Note: This is a Hongkong Disneyland Park Exclusive Activity. It can only be seen in Hongkong Disneyland.
Garden Of Wonders – Stroll through the garden and be amazed by the 3D illusions created by the garden.
Other Attractions:
Mystic Point Freight Depot – Take a photo with exotic artifacts at this shipping station across from Mystic Manor.
Toy Story Land
After Mystic Manor comes Toy Story Land. Yehey! Reminisicing childhood ehy? Having enough fun? Wait there are more of it. *wink wink*
This theme land has 4 main attractions.
Toy Soldier Parachute Drop– A parachute training that drops you from the sky. Minimum height requirement is 81cm or 32in.
Slinky Dog Spin – Ride on Slinky Dog.
RC Racer – Join RC for a thrilling, gravity-defying race on a U-shaped track. Minimum height requirement is 120cm or 48in.
Barrel of Fun – Meet and Greet with Woody and Jessie. Note: Scheduled appearances are subject to change without notice.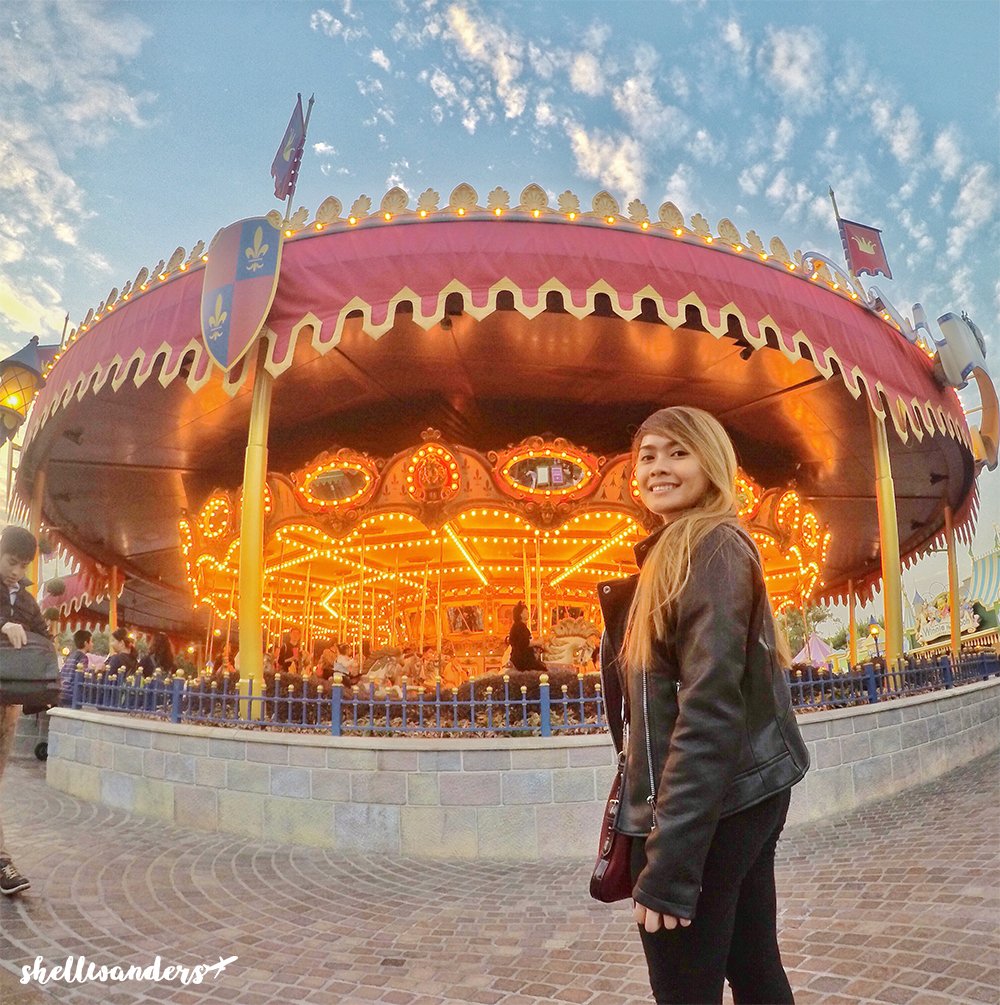 Fantasy land
After Toy Story Land comes Fantasy Land. Home of the famous Sleeping Beauty Castle and my favorite ride "Carousel".
This theme land has 13 main attractions.
Sleeping Beauty Castle – Snap a photo and be inspired in the wondrous castle you see in every Disney movie. This location is where the Fireworks are being displayed.
Mickeys's PhilharMagic – Be enchanted by this 3D magical adventure.
Fairy Tale Forest – Travel to classic Disney fairy tales in this storybook garden.
Dumbo the Flying Elephant – Remember Dumbo? Hop on and experience a meaningful slow ride.
Cinderella Carousel – Hop on the 60 horses available inside. Inspired by Disney's Cinderella.
Hongkong Disneyland Railroad – Fantasy Station- Hop on or off the train.
Fantasy Gardens – Meet and Greet with Disney Characters. Note: This is an exclusive park and can be seen only in Hongkong Disneyland park
Mad Hatter Tea Cups – Spin round and round in a tea cup. How awesome could that be?
"It's a small world"– Hop on a boat tour around the globe that has been called "the happiest cruise that every sailed". It has been replicated in every Disneyland Park and is considered to be a Walt Disney Classic.
"Mickey and the Wondrous Book"– Join mickey in this spectacular musical where characters and stories come alive.

"The Many Adventures of Winnie the Pooh"– A fastpass ride. Be charmed with the story of Winnie the Pooh.
Snow White Grotto – Make a wish in the Wishing Well.
Sword in the Stone – The famous 'Excalibur" but the real question is "Can you remove it? "
Tomorrowland
Last but definitely not the least, Tomorrowland. There is tomorrow in tomorrow land. Inspired by the movie.
This theme land has 2 fast-passes ride and has 6 main attractions.
Hyperspace Mountain- Join the battle in Star Wars. Minimum height requirement is 102cm.
Star Wars: Command Post- Meet the greatest heroes of the Star Wars Saga.
Orbitron- Ride a saucer and while enjoying the view of Tomorrowland.
Jedi Temple- Its a show. Kids can join and kids ate heart too.
Iron Man Experience- Hop on a cool ride with J.A.R.V.I.S. and 5 other robots and battle the forces of hydra. Minimum height requirement 102cm.
Iron Man Tech Showcase- Snap a photo with Iron Man. Note: This is an exclusive park and can be seen only in Hongkong Disneyland park
Where to Eat
Main Street, U.S.A
Main Street Corner Cafe – Features innovative menu inspired Coca-Cola.Hosted by Coca-Cola.
Market House Bakery – Delicious pastries and sandwiches. Hosted by Maxim's.
Main Street Market – Mickey Waffle, Turkey Leg, Frozen Lollipop. All meat items are halal certified.
Plaza Inn – Dimsum and Cantonese Foods. Hosted by Maxim's.
Popcorn,Cotton Candy,Frozen Lollipop Cart, Sandwiches and Coffee Cart.
Adventure Land
River View Cafe – Southeast Asian and Chinese Foods. Note: Priority Seating available.
Tahitian Terrace– Indian vegetarian dishes and Halal certified cuisine.
Outdoor Vending Cart– Korean Squid, Turkey Leg and Frozen Lollipops.
Tiki Foods – Ice-Cold Beverages. Presented by Coca-Cola.
Grizzly Gulch
Lucky Nugget Salon – Fish&Chips,Chicken and Desserts.
Popcorn Cart and Frozen Lollipop Cart.
Toy Story Land
Explorer's Club Restaurant – Japanese,Korean,Indonesian and South East Asian cuisines.
Frozen Lollipop Cart.
Mystic Point
Jessie's Snack Roundup– Sundae Cone and Churros are available.
Fantasy Land
Royal Banquet Hall – International foods are available inculding grills,ramen noodles and pizzas.
Clopin's Festival of Foods – Chinese BBQ,noodles and wok-fried items.
Small World Ice cream
Soya , Chicken Leg,Corn on the Cob, Jumbo Hot Dog, Frozen Lollipop Cart,Popcor, Cotton Candy
TommorowLand
Starliner Diner – Hamburger, fried chicken, grilled chicken rice, kids' meals.
Comet Cafe – Hongkong Style BBQ,wok-fried food and noodles.
BB-8 Snack Cart – Churros, Sundae Cone and Frozen Slush.
Where and What to Shop
Main Street, U.S.A
Emporium
Center Street Boutique- Stylish Accessories, jewelries and collectibles including Chow Tai Fook.
Main Street Jewelers- Presented by Pandora
Main Street Cinema- My journeys with duffy
Town Square Photo
Adventure Land
Professor Porter's Trading Post
Toy Story Land
Andy's Toy Box
Mystic Point
The Archive Shop
Fantasy Land
Merlin's Treasure
Storybook Shoppe
Pooh Corner- Photo Sales Location
Merlin's Magic Portrait- Photo Sales Location
TommorowLand
Space traders
Expo Shop
4 Best Rides for the Adrenaline Junkie
After all the planning and listing everything I want to do in Hongkong Disneyland, I have come up with these Must do rides. Ranked from good to the best ride.
Toy Story Parachute

Chest and stomach will have a butterfly effect because of the drop. Don't underestimate the power of parachute drop.
Big Grizzly Mountain Runaway Cars
Get ready for a roller coaster ride.
Hyperspace Mountain
Join forces with the star wars as you middle in the battle.
RC Racer
Roller Coaster Up Up and Away.
Best Month to Visit Hongkong Disneyland
March, April, October, November and December are the best months to visit Hongkong Disneyland. Just avoid the special days within it and you are good to go.
Other Valuable Info's
Bank. Atms are available inside the park.
Wheelchairs and Strollers. Rentals are available in the park.
Selfie Stick. You cannot use selfie stick to avoid catastrophes.
Smoking. Smoking is allowed in designated area.
Re-admission Policy. Please have your hand stamped as you exit if you plan to return later on that day.
Fireworks Display. This is a must. Please stay until fireworks display. You will never regret it.
---
DID YOU ENJOY THIS POST? PIN IT FOR LATER
Kid at heart? Adrenaline Seeker? Try Disneyland!!
Always remember to "Develop your One Days to Day Ones!"
XOXO,