Palawan is the only province in Philippines that has roughly 1780 islands including islets surrounding it. It is also the largest province in the Philippines in terms of total area of jurisdiction. It is a home to many tourist destinations and one of the new seven wonders of the world. From diverse food to wildlife, they have it.
10 Best Things To Do
#1 Check off One of the New 7 Wonders of the World known as the Underground River
Underground River / Subterranean River has been chosen as one of the New 7 wonders of the world . This has been one of the topics that has been tackled since grade school all around the world. Ready yourself to experience a 45-minute magical ride inside a cave.
#2 Island Hopping at Honda Bay
Before you proceed to Honda Bay Wharf, take a stop at the shop to rent snorkel mask (P150.00 or $3.00) and footwear (P150.00 or $3.00). Tour guides suggest to use footwear so you can avoid catastrophes like stepping on a stonefish that can eventually cause severe pain and may lead to death. Island tour consists of the following: Pandan Island, Luli Island, Bat, Meara Marina, Pambato and Snake Island.
#3 Feed your mind with the history of the Palawan at Plaza Cuartel and Church
The Plaza Cuartel is where the Japanese soldiers burned approximately 143 American prisoners of war on December 14, 1944 and is used to be a military defense base during the World War II.
#4 Go crazy feeding fishes and snorkeling at Pambato Island
Activities in Pambato island includes swimming, snorkeling and feeding fishes.
#5 13ft-18ft Crocs at Crocodile Farm
From baby to adult, you can find it there. They do have a mini museum about crocodile histories. They also have a hatching center where you can see the baby crocodile upclose! Plus you can hold a young crocodile. How fun could that be?
#6 Overlooking at Mitra's Ranch
Can't get enough view of Puerto Princesa? No worries because Mitra's Ranch offers an amazing view of it. You can also find the famous Filipino snack food "Taho".
#7 A taste of Wonderland at Bakers Hill
For a theme park lover like me, I highly recommend Bakers Hill. They present Christmas Decors when its Christmas.
#8 Island Hopping at El nido
Mostly island hopping consist of packages that take you to places you cannot even imagine. Those beautiful rock boulders are very cool. Plus the boats are really attractive too. But I consider secret lagoon as my fave spot.
#9 Market Stalls at Bay walk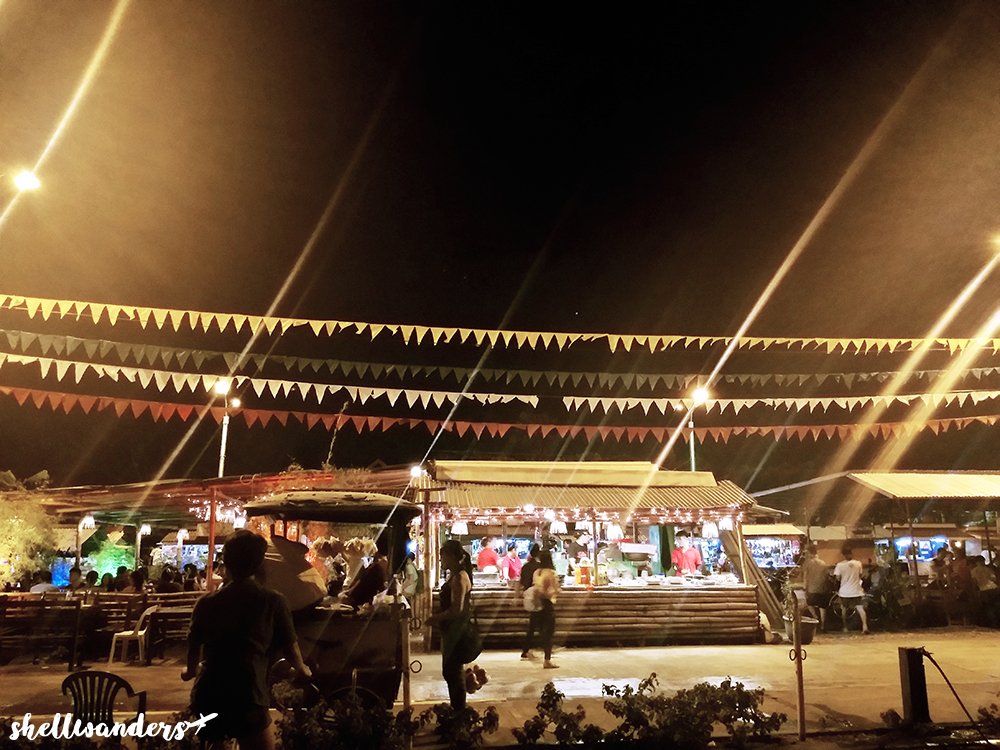 Want to spend some dramatic evening/morning? Puerto Princesa Baywalk can be one. They also serve fresh seafood stalls at a very reasonable price.
#10 Shop till you drop at MCA Pasalubong Center
They have all kinds of souvenir stuffs from keychains to shirts, bags to food. It is hassle-free since they are selling it in a well air-conditioned place.
MAP TO HELP YOU GET AROUND PALAWAN
DID YOU ENJOY THIS POST? PIN IT FOR LATER!!
Anything I've been missing? How's Palawan? Did you try all things I have inform?
Always remember to "Develop your One Days to Day Ones!"
XOXO,