Aloguinsan is a fourth-class town with an annual income of only P8.8 million and population of just a little over 32,000.
It is the only area in the Philippines that was included in the list of the world's top 100 sustainable tourism destinations.
10 Things to do in Aloguinsan, Cebu
1. The Bojo River Village Tour  
Rivers in the Philippines often reflect filthy, abandoned bodies of water that have been piled up a massive amount of trash on. But not all rivers accept rubbish.
Here in Aloguinsan, the locals take pride of their world-class river, boasting of its healthy flora and clean river.
By riding a small fishing boat, you can tour the entire Bojo River, which was once part of a fishing village.
Bojo River comprised of 22 species of Mangroves which are protected by the local government.
Rates
PHP 400 per person – Walk-in rate for Bojo River Cruise (excluding meal)
PHP 650 per person – Inclusive of tour, lunch, snacks at the Farmhouse, and complementary goodies. Based on advance booking (at least 2 days), minimum of 5pax.
PHP 850 per students for a minimum of five persons. This includes a welcome lei, welcome drinks, lunch at The Farmhouse, snacks along the Bojo River, handicraft demo, river cruise, swimming, and a tour of heritage sites such as the baluarte (heritage park), old stone church, and parola.
Contact numbers: (032) 469-9042 / 0933 120 9480 / 0997 371 5698
Email: aloguinsantourism@gmail.com
Social: Facebook Page
Part of your payment goes to local out reach program as well as for the maintenance of the river. There are few local stories/legends about the river which makes it more exciting.
2. Visit the infamous Hermit's Cove
Entrance Fees
Basic Fee: PHP 50
Overnight Fee (big group): PHP 100
Overnight Fee (small group): PHP 150 to 200
Hermit's Cove is located in Brgy. Kantabogon in Aloguinsan. According to the locals, an old hermits lived in this remote area that is why it was called the Hermit's Cove.
This is one of the most beautiful places in Cebu Island but hard to reach if you don't have a car. The beach is very clean and the nature around is very beautiful.
Before there was no staircase available in Hermit's cove that's why people have to go through short trekking before getting to the cove. The staircase was developed last 2014, after that, many tourist visits the cove.
You can buy fresh fish from local people there and there are facilities for grilling .
Contact Information:
Hermit's Cove
Barangay Kantabogon, Aloguinsan, Cebu
Kantabogon Eco-Tourism Association (KEA)
Mobile No.: +63-923-504-2066
3. Adventure at The Farmhouse in Aloguinsan
If you have decided to purchase the full tour of the Bojo River cruise, the farmhouse will be one of the destination.
The Farmhouse in Aloguinsan is a small-scale organic farm. Its couple of hundred square-meter area is mainly devoted to growing rows of organic vegetables such as eggplant, tomatoes, bitter gourd, sweet potato and bougainvillea to attract bees for pollination.
A tilapia pond and livestock is in the area.
They feature local artworks and souvenirs in their small shop and they also built a very chill dining area where they serve local delicacies.
Contact Information:
The Farmhouse – Aloguinsan Municipal Tourism Office
Telephone No: 469-9312
Mobile No.: +63-997-371-5698 (TM) / +63-933-120-9480 (Sun)
Email: nonella.villegas@aloguinsan.gov.ph
Website: www.aloguinsan.gov.ph
4. Spend your afternoon at Lunhaw Farm Resort
Lunhaw is a Bisaya term for "verdant' or "green". The resort is posted on a green hill, surrounded by thick foliage and greenery.
Speaking of farms, don't you want to stay in the middle of a peaceful farm where you can luxuriously sleep, dine and relax? Lunhaw Farm resort offers a very calm and undisturbed experience for a really reasonable price.
They have big small villas. If you are coming as a couple then your villa for an overnight stay will cost you 4,000 pesos. I am telling you, the price is very worth it!
Their Couple's Villa Suite package includes one King-sized bed, a refrigerator, a bathtub, air conditioner, outdoor shower and other perks such as soft pillows robes and towels and also some handmade bath essentials.
The view from the poolside is the green trees around the area and the blue sky from above. If you have a green thumb, then this is your haven!
5. Curbada dela Maria Resort
Entrance fees: PHP 150 per adult; PHP 100 per kid 10 y/o and below
Want to see a resort that has many curves? Look no more because Aloguinsan, Cebu has it.
An almost known fact to cebuanos is that "curbada" means curved. I must say that the place got its name because of that.
The resort has opened its doors to public since February 17, 2018 and it features a number of attractions like a main pool, kiddie pool, kids playground, bonfire place, a restaurant and function building, cottages and rooms for overnight stays.
ROOM RATES:
PHP 3,500 – Good for 6 persons (Air-conditioned)
PHP 2,500 – Good for 4 persons (Air-conditioned)
PHP 1,500 – Good for 2 persons (Air-conditioned)
PHP 1,000 – Good for 2 person (Non-aircon)
RENTAL FEES:
PHP 2,500 – Gazebo Espacio (3 tables, 18 chairs)
PHP 250 – Tables and Chairs(1 table, 4 chairs)
PHP 600 – Gazebo (1 table, 6 chairs)
PHP 200 – Videoke Room (1 hour)
OTHER FEES:
FREE – Bonfire Place
PHP 50 – per head Playground for kids
PHP 100 – Marshmallow Set with sticks
No corkage fee for Food and Drinks except for Liquor — there's a restaurant in the resort
OTHER INFORMATION
Facebook Page: link
Website: link
Contact numbers: (032) 318-8911 / 0917-721-6825 / 0929-508-0592
 6. Hunt the Hidden Beach
The Hidden Beach Resort is one of the most natural beaches in Cebu Province.
True to its name its a hidden oasis. However, this did not stop tourists and getaway-seekers to discover its beauty.
This white sand beach is a must-visit unfortunately it was low tide when we got there so there isn't not much to do,we didn't even swim. But locals told us that we could have appreciated it if its high tide. It didn't take too long till we took off.
The resort is open at 6:00am and closes at 6:00pm for accommodation of guests but everyone is free to stay overnight.
Entrance fee:
PHP 50 for 11yrs old and up
PHP 25 for 7-10yrs old
Free for 6yrs old and below
*Senior citizens get 25% discount for Entrance fee
7. Taste their famous delicacy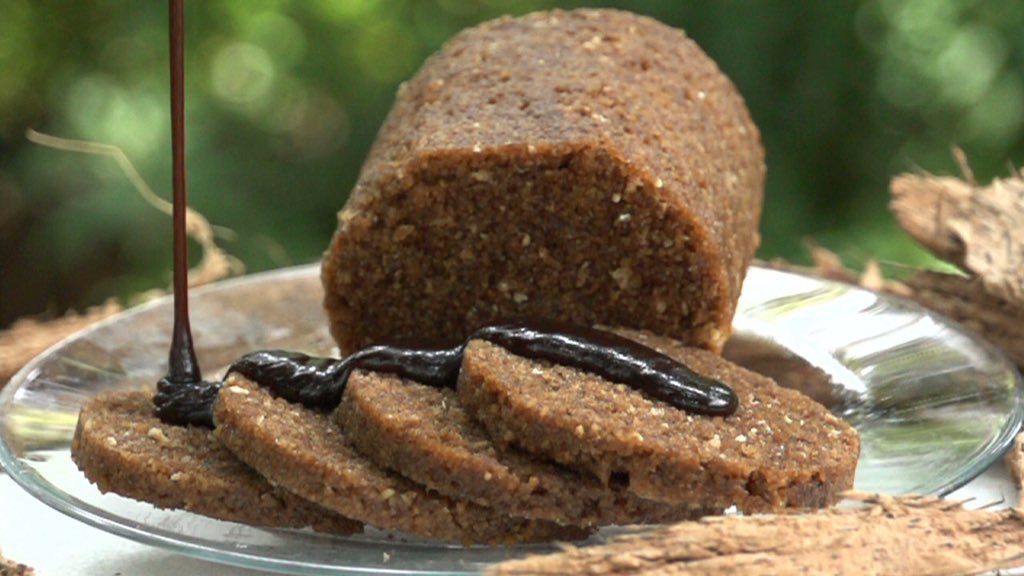 Another thing to do in this town in Cebu is to taste their delicacies.
One of which is the "Puto Buli," a local kakanin (native delicacies) (much like the popular puto bumbong) made from buri or buri palm.
And finally, a must-try in Aloguinsan are their "Taro Balls" or grated purple yam cooked with coconut cream.
🏷️10% OFF Private Mactan-Cebu Airport Transfers (CEB) for Cebu or Mactan
🏷️ 5% OFF 4G WiFi (MNL Airport Pick Up/Delivery) for the Philippines
🏷️10% OFF [SALE] Oslob Whale Shark Watching from Cebu City or Mactan Island
🏷️18% OFF Private Cebu & Mactan Twin City Tour
8.Refreshing Kinsan Festival
Kinsan Festival of Aloguinsan, Cebu, is an annual festivity that is especially held to promote mainly its Kinsan fish products.
This festival is held every second Sunday of June, which is the middle high season of this fish abounding the municipality's seawater.
The name Aloguinsan is believed to be the name given to this town to refer to the head of this fish species.
9. Spot the Big Acacia Tree near St. Raphael the Archangel Parish
The tree beside the church that is situated on top of a hill. It really is magnanimous.
The Acacia tree once served as the church's "bell tower," pealing to warn the villagers of pirates.
Try to spot it.
10. Stroll at Aloguinsan Baluarte Park
Entrance fee is at PHP 10 per person.
Baluarte Park is a perfect place to stroll around as it is also a beautiful and historical.
At the entrance of the park, an arch welcomes visitors. A pathway takes you to the remnants of the watchtower that was built to warn residents of the presence of pirates in the area.
You can watch a panoramic sight of the ocean and a stunning sunset over Tanon Strait in Aloguinsan.
Map to help you locate the place in Aloguinsan, Cebu
Map to help you locate the nearby activities

Have you ever been to the places I've listed above? Go and try them yourself!
Always remember to "Develop your One Days to Day Ones!"
XOXO,