Last August 23, 2019, I was invited to witness the press release of the Largest Oceanarium in the Philippines. It was built by Cebu Sealife Park Inc. – the same company who built Manila Ocean Park.
I am so glad because families in Cebu and other nearby provinces no longer need to fly all the way to Manila just to witness the marvelous marine life attractions in Manila Ocean Park.
And now it is open to public since August 24, 2019.
Traveling to Cebu Ocean Park for the first time? This detailed and curated travel guide will make it easy for you to plan a trip, save money and maximize your time. This guide will also make sure that you get the best out of your money while travelling to Ocean Park.
Scroll down to read must-know travel tips before you go, followed by expenses of activities, things to do and lots of extra travel tips.
Get Started
Always book your hotel early — Avail low rates and avoid fully-booked rooms by booking online as soon 2-3 months before your travel departure. Click below to compare discounts and read reviews by other travelers.
Check discounts and prices online — Save money by checking discounts on tours & airport/hotel transfers. Booking before you leave also saves you time & avoids the hassles of bringing large amounts of cash during your actual trip.
Philippines 3G/4G internet data sim card & pocket WiFi rental
🏷️12% OFF 4G/3G WiFi (MY Airport Pick Up) for Philippines
🏷️ 5% OFF 4G WiFi (MNL Airport Pick Up/Delivery) for the Philippines
See more blogs & travel guides
Cebu Ocean Park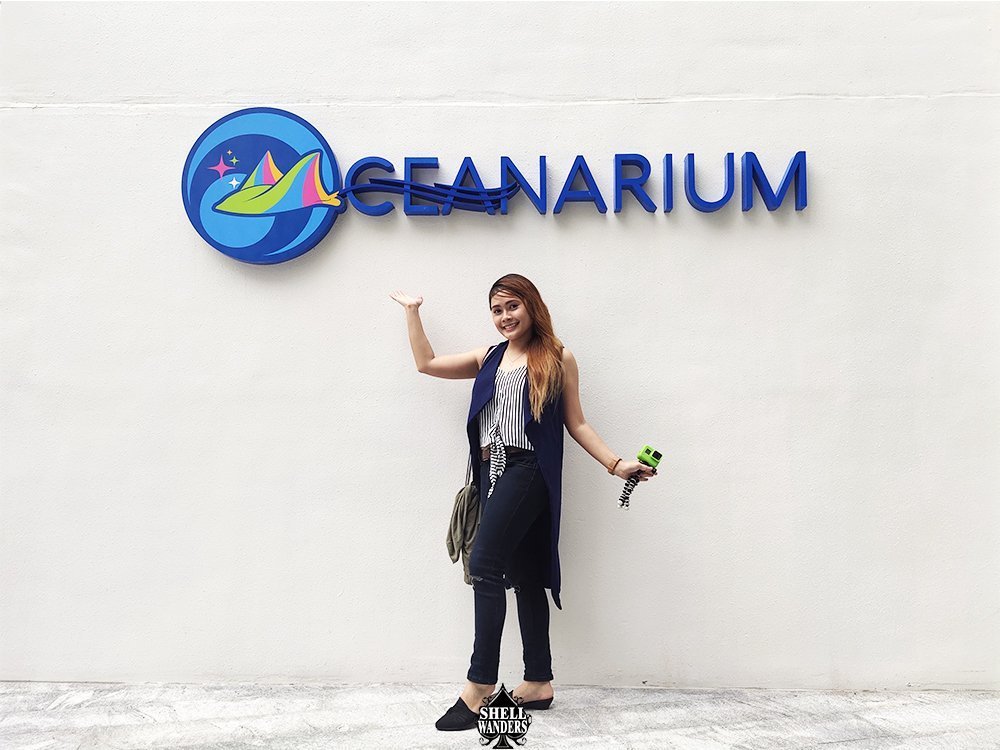 I previously intended to go to Ormoc, Leyte last August 23 but when I received the Email invitation from Ocean Park, I changed my mind. It was an opportunity that I should really grab so re-adjusted my travel to the next day.
✓ How to get there?
✓ Exact Location?
✓ What to expect about Cebu Ocean Park?
✓ Map Inside Cebu Ocean Park?
✓ Entrance Fees and Other Prices
✓ Operating Hours
✓ Amenities
✓ What to do in the Resort?
How to get there
✓ From Airport (Most Convenient ride but not the cheapest) – MyBus ( This is the bus operated by SM)
Hop on a SM MyBus. Fare is about Php 45.00
Drop off at SM City Cebu.
Then ride again an SM MyBUS that will go to SM Seaside. Fare is Php 25.00. Drop off exactly at the SM Seaside and just ask the guards on duty where the Ocean Park is.
✓ Anywhere in Cebu (Expensive Option) – By Taxi or Grab Car
Exact Location?
Cebu Ocean Park is located along SM Seaside City Cebu Complex, just a few steps away from the City's Central Business District.
What to expect about Cebu Ocean Park?
Ocean Park is medium-far from the city so expect it to be located in a serene and peaceful place.
This facility at South Road Properties in Cebu City is set to take the visitors on an educational, interactive, and experiential marine life journey through its attractions and encounters programs. It boasts the largest Oceanarium in the Philippines which is 7-meter deep, that also showcases a 360-degree viewing tunnel that houses thousands of the world's most amazing marine species.
The area of the place goes up to 1.5-hectare. It is really quite big. It can totally accommodate a lot of person.
The staffs of the Marine Park are very accommodating. They are actually Cebuanos! (Pag bisaya nlng mo no oi. haha!)
The animals in the Oceanarium were quite short in number but I guess that is what soft opening is for.
Map Inside Cebu Ocean Park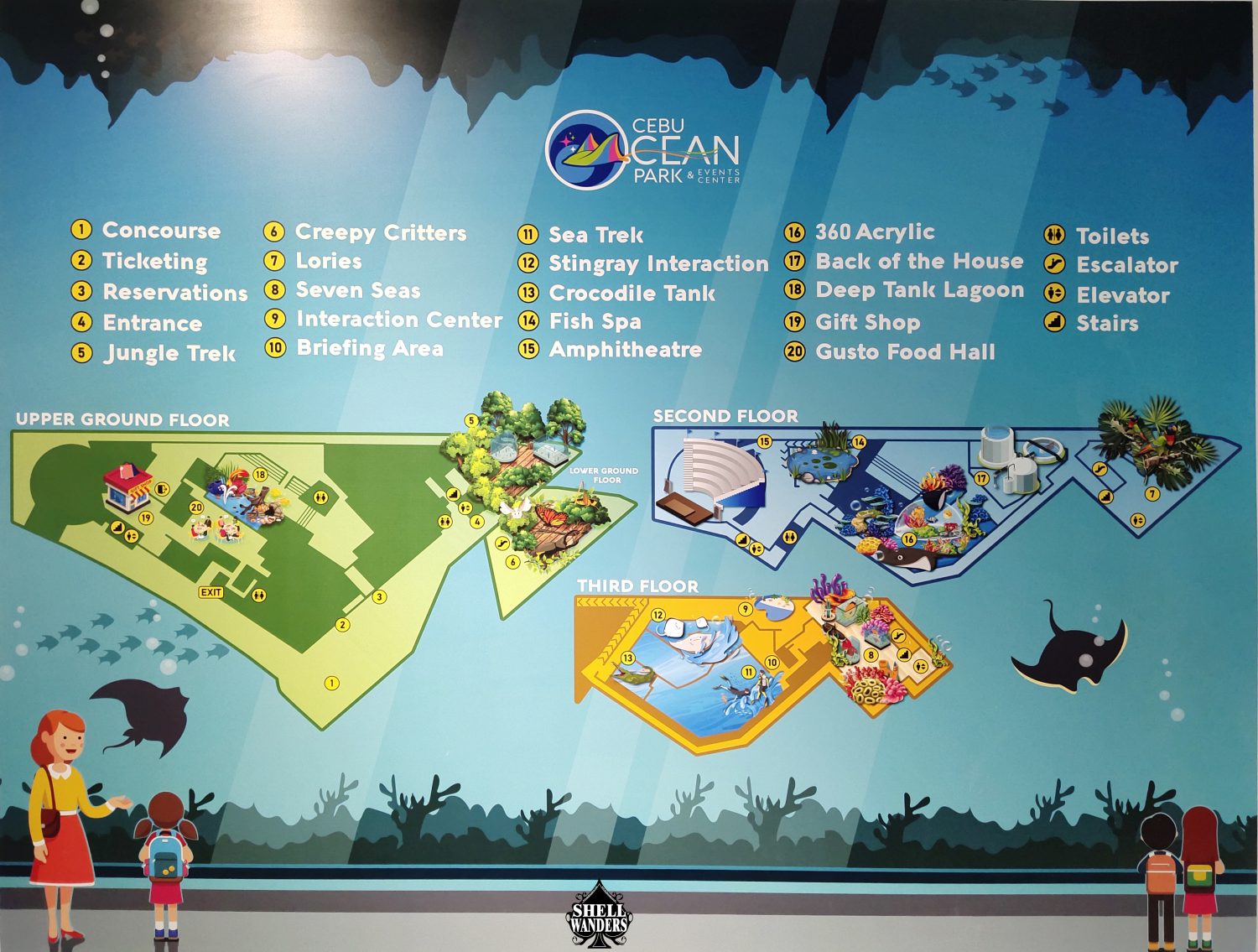 Entrance Fees and Other Fees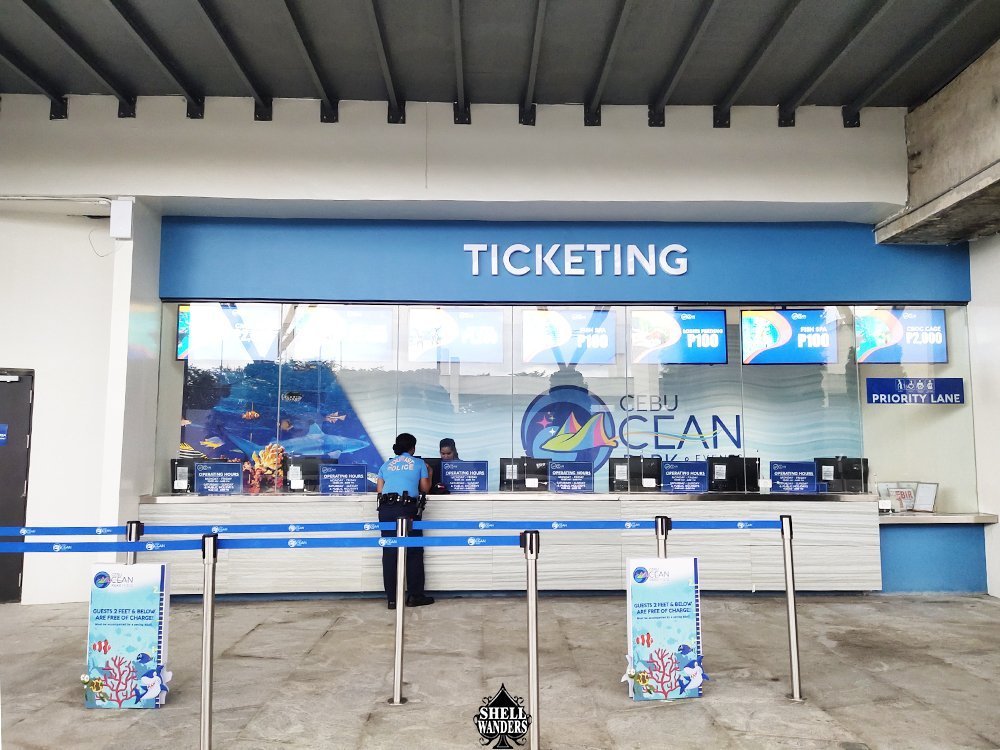 Rates/Prices
Entrance Fee (weekdays)

PHP 600 (SG$ 15, $12, € 10) – Locals
PHP 800 (SG$ 20, $16, € 14) – Foreign
Entrance Fee (weekends)

PHP 800 (SG$ 20, $16, € 14) – Locals
PHP 800 (SG$ 20, $16, € 14) – Foreign

Fish Spa

PHP 100 (SG$ 2.5, $2, € 1.7)

Croc Cage Encounter

PHP 2000 (SG$ 50, $40, € 34)

Stingray Interaction

PHP 1000 (SG$ 25, $20, € 17)
Sea Trek

PHP 1200 (SG$ 30, $24, € 20)
Lories Feeding
PHP 100 (SG$ 2.5, $2, € 1.7)
Operating Hours
Operating Hours
Monday- Friday

10:00 AM – 6:00 PM
Saturday- Sunday &
Public Holidays

9:30 AM – 6:00 PM
Amenities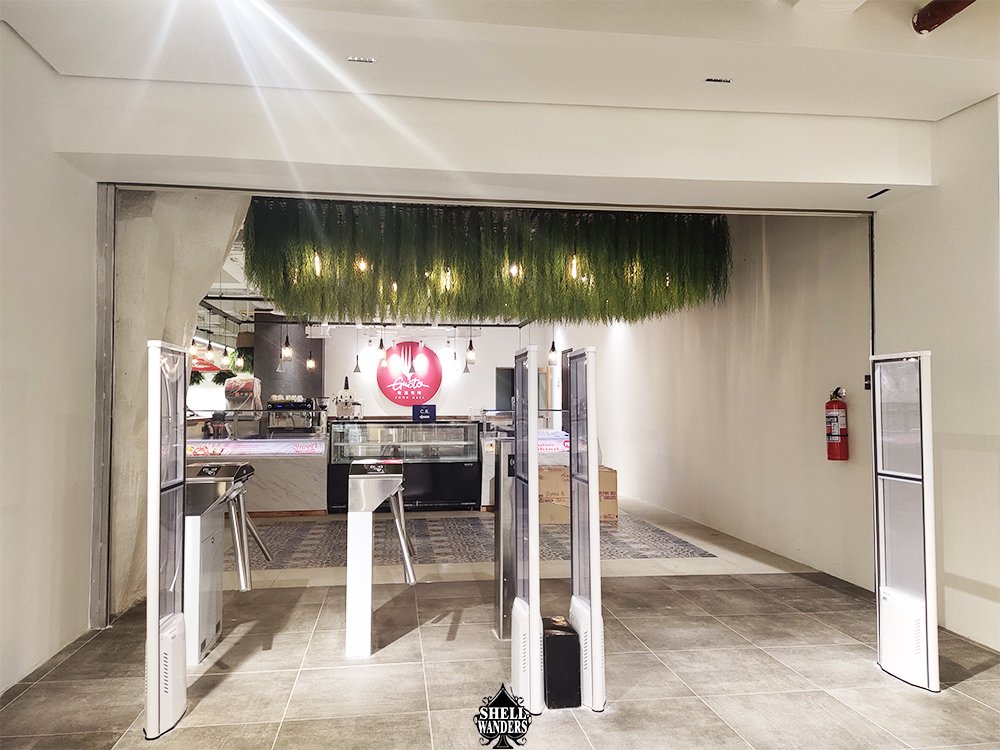 ✓ Gusto Food Hall – The name of their food restaurant with local and international cuisine. Relax and Dine. That exploring gets us all tired, right?
✓ Souvenir Shop – Key chains, stuff toys and other memorable gifts are available for grabs.
What to do in Cebu Ocean Park?
1. Experience Jungle Trek
Start your journey by trekking through a jungle of remarkable collections of fishes and faunas.
The pathway of the jungle looks amazingly beautiful. It actually took me back to Singapore's Gardens by the Bay and that is one hella compliment.
Discover more of the freshwater fishes that can be mostly found in Amazon and African rivers.
2. Hear the sound of the Creepy Critters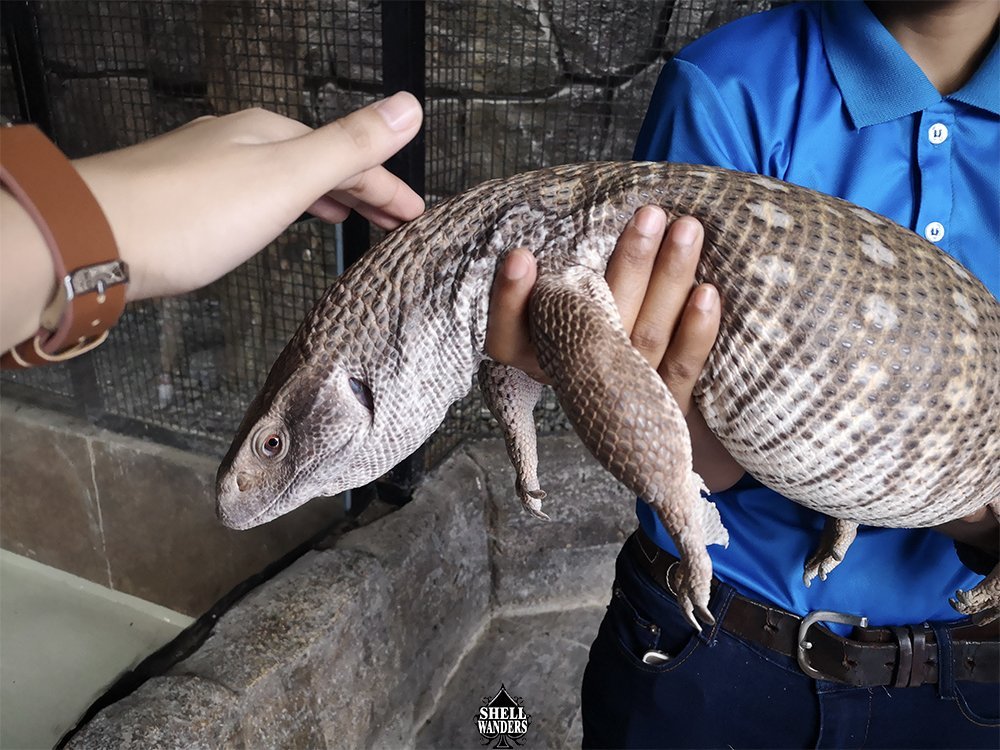 Reptiles and insects are exhibited here.
Pet all the animals you see because they are absolutely domesticated and presumably harmless. Just relax. They won't bite. (charot!)
P.S. I touched all animals that were present during our visit. It was totally an amazing experience.
3. Dance your way to Oceanarium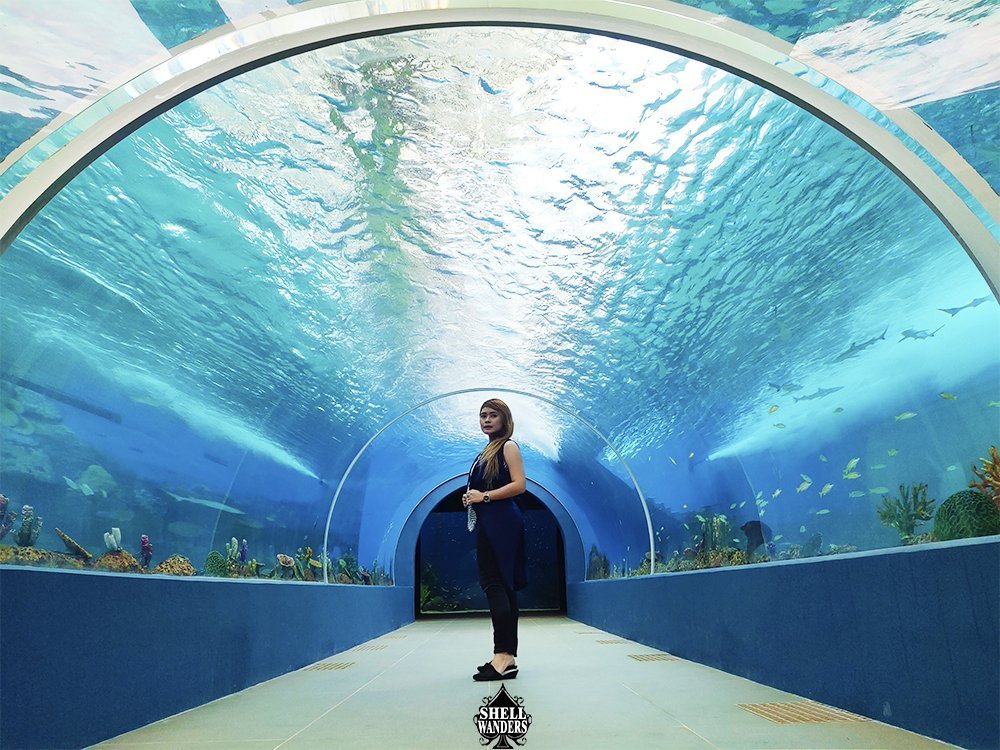 The largest in the Philippines.
A stunning walkthrough of the watery depths that is home to a richly diverse collection of the world's most amazing aquatic species.
Watchout for the Deep Tank Lagoon inside the Oceanarium because its the deepest aquarium in the Philippines.
4. Trek at Sea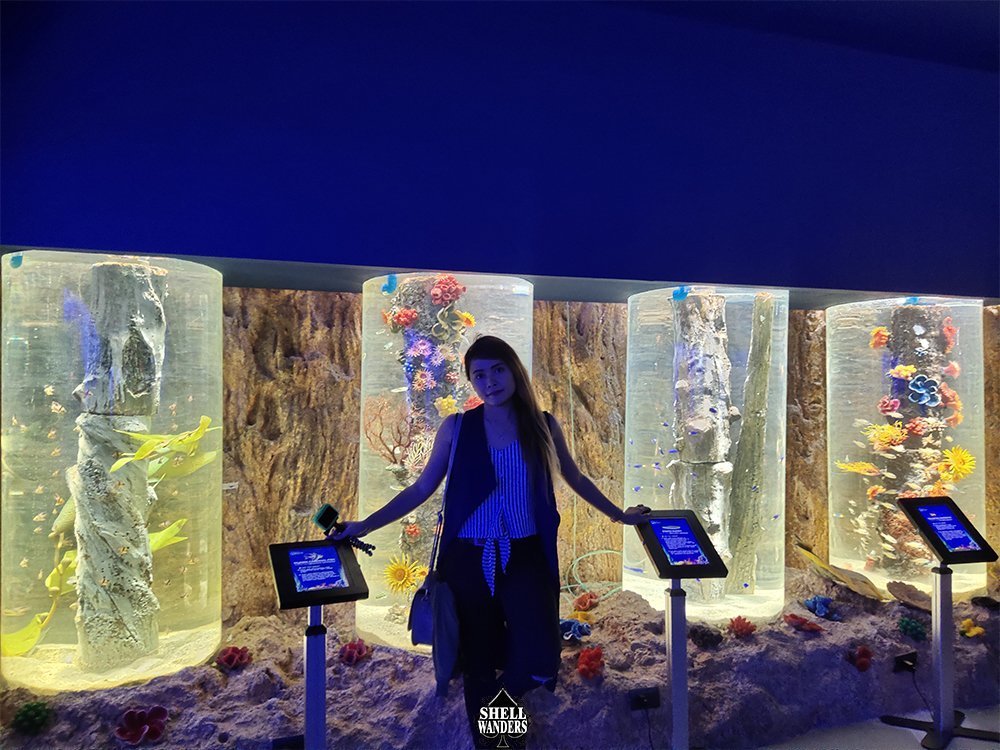 An ultimate underwater adventure wearing a diving helmet as you walk underwater surrounded by marine life.
Not a swimmer? That's totally fine.
5. Interact with Stingray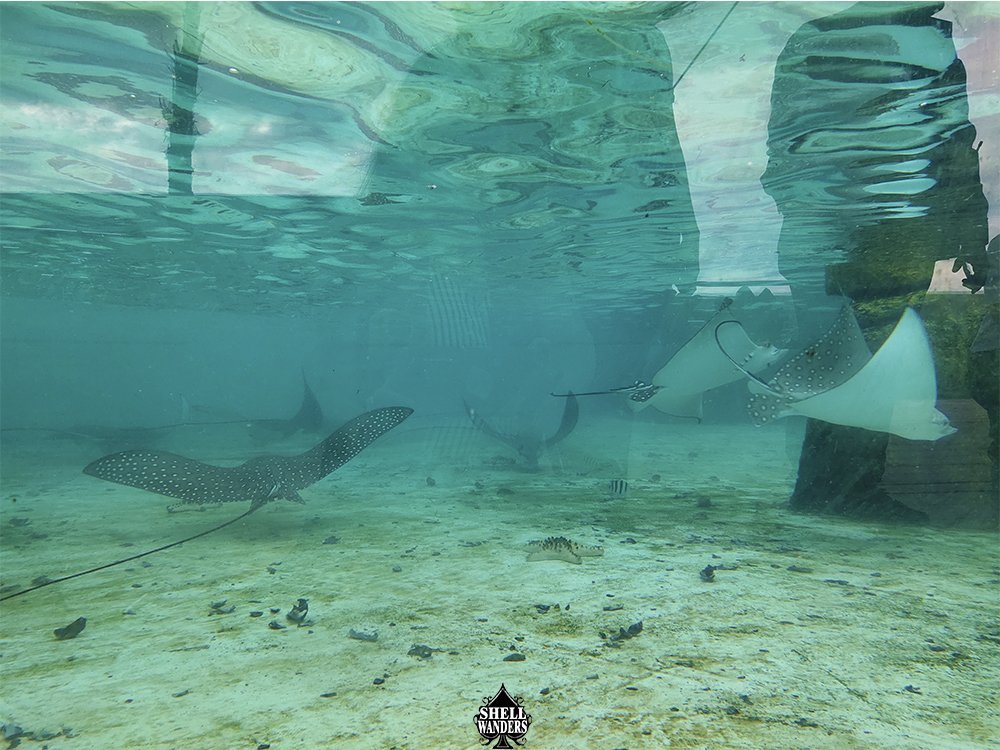 Hold a Stingray! For reals!
6. Bird Feeding
Feed the lorikeets – colorful Australian birds.
The lorikeets did not fly to us when we feed them. Guess they don't want us. Poor us. I hope you won't suffer the same fate as us. Charot!
7. Fish Spa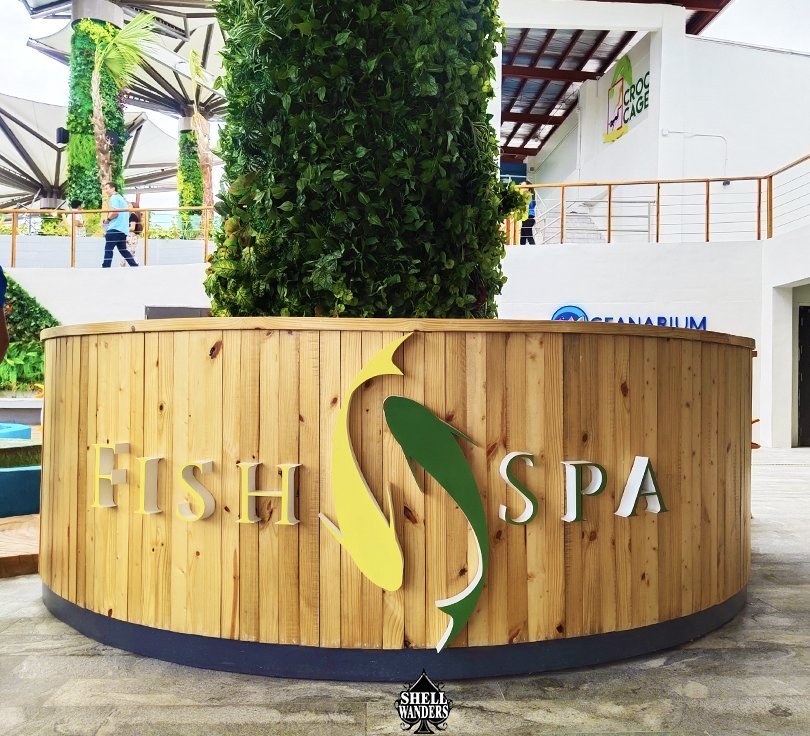 I had fun immersing my feet in a tank of toothless doctor fish and let them nibble away my dead skin cells from my tired feet. They say that it exfoliates skin and improve blood circulation in the body.
8. See upclose the 14-footer Crocodile
Do you dare to get up close and personal with this prehistoric creature? By the way, the name of the saltwater crocodile is HERCULES! Say hi to it for me, okay?
9. Find the amazing Penguin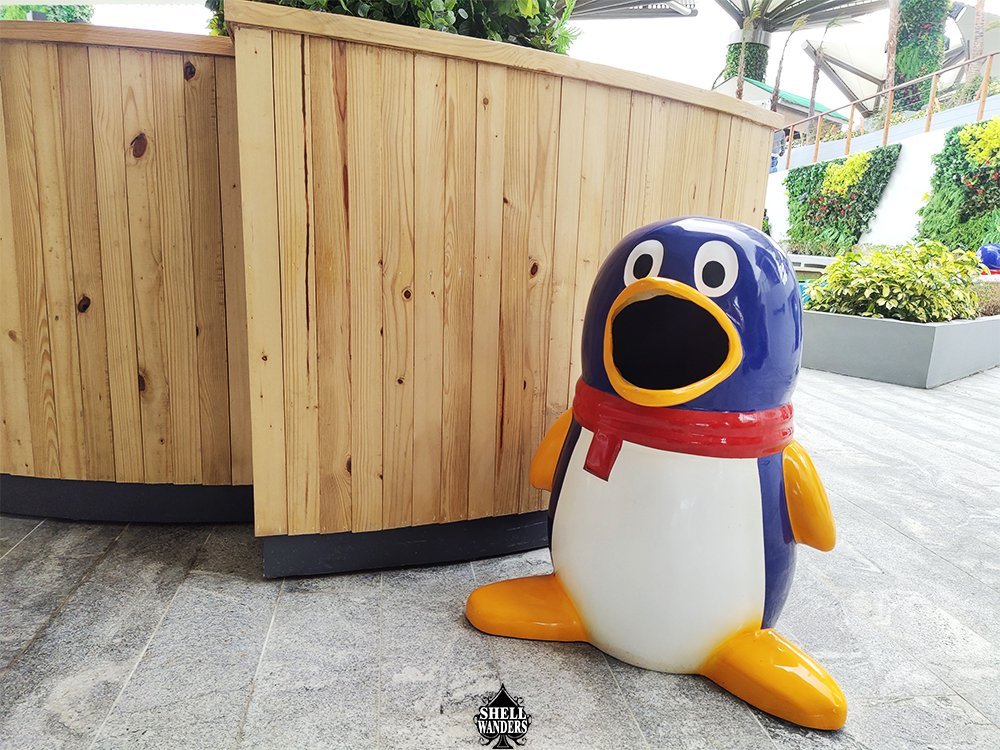 Its not alive. It is just a trash can. I was amaze.
10. Bird Show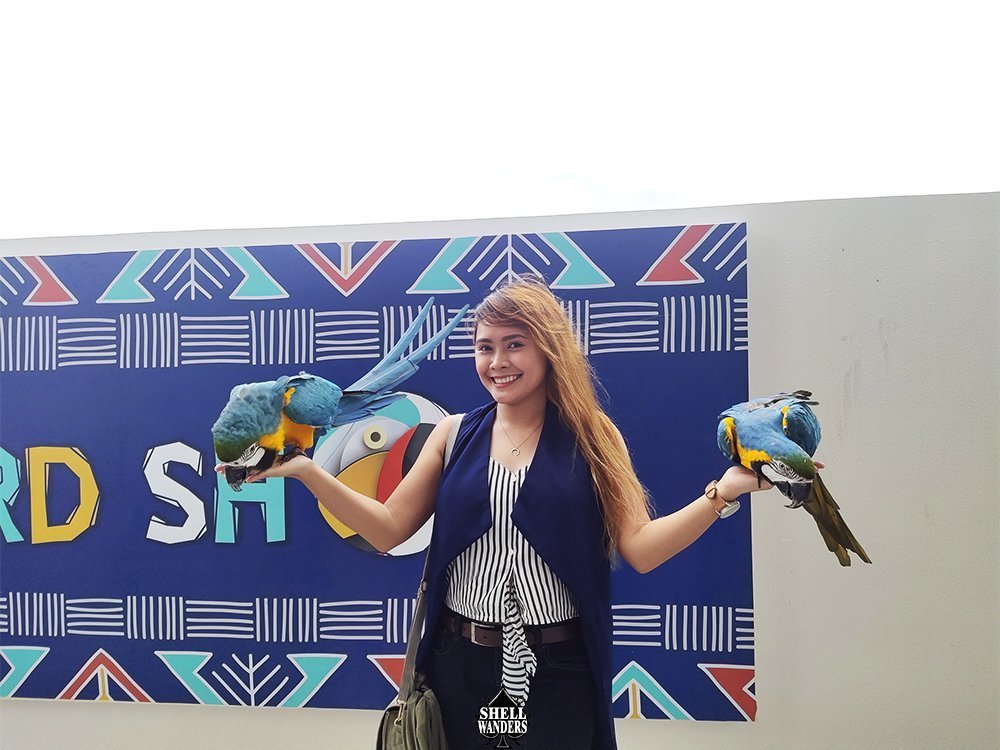 11. Find this Magnificent Spot and take a picture!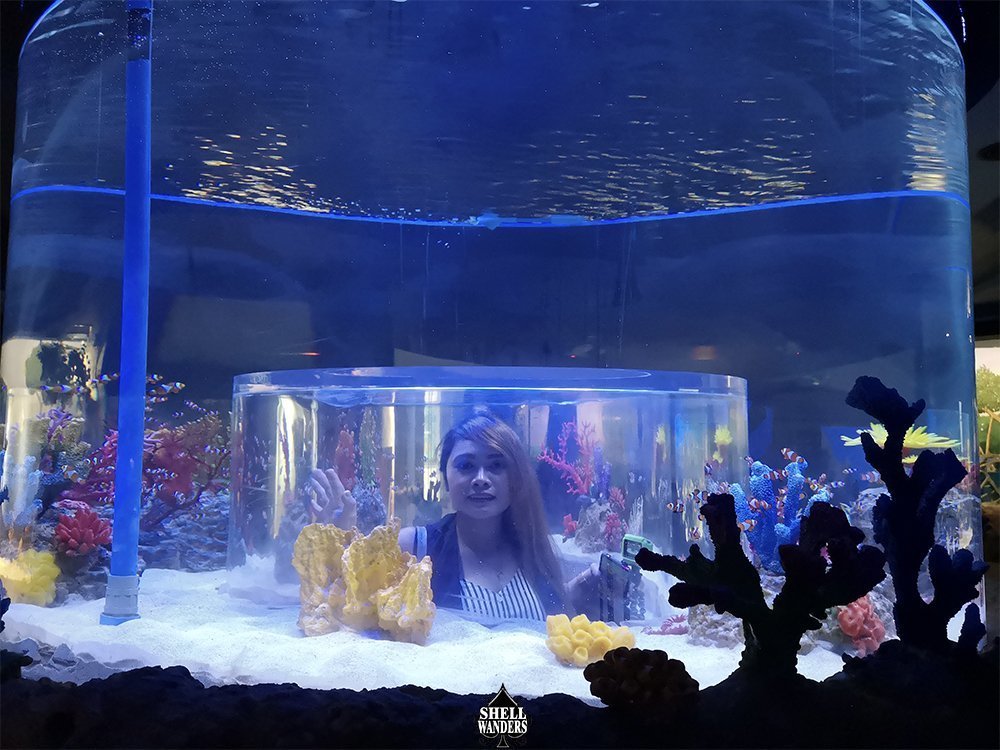 In order to be here, you need to bend your knees. This is not good though for people that has a problem with bending their knees or body.
For More Updates
Visit their website and other pages.
Find and Follow them at
or Reach out to Cebu Ocean Park thru:
Armi Cortes at armicortes@manilaoceanpark.com and +63917590822, Dennice Onque at dennicelei.onque@valueaddedfms.com and +639173148860 or Marky Lambanicio at mlambanicio@manilaoceanpark.com and +639054180183.
Overall Thoughts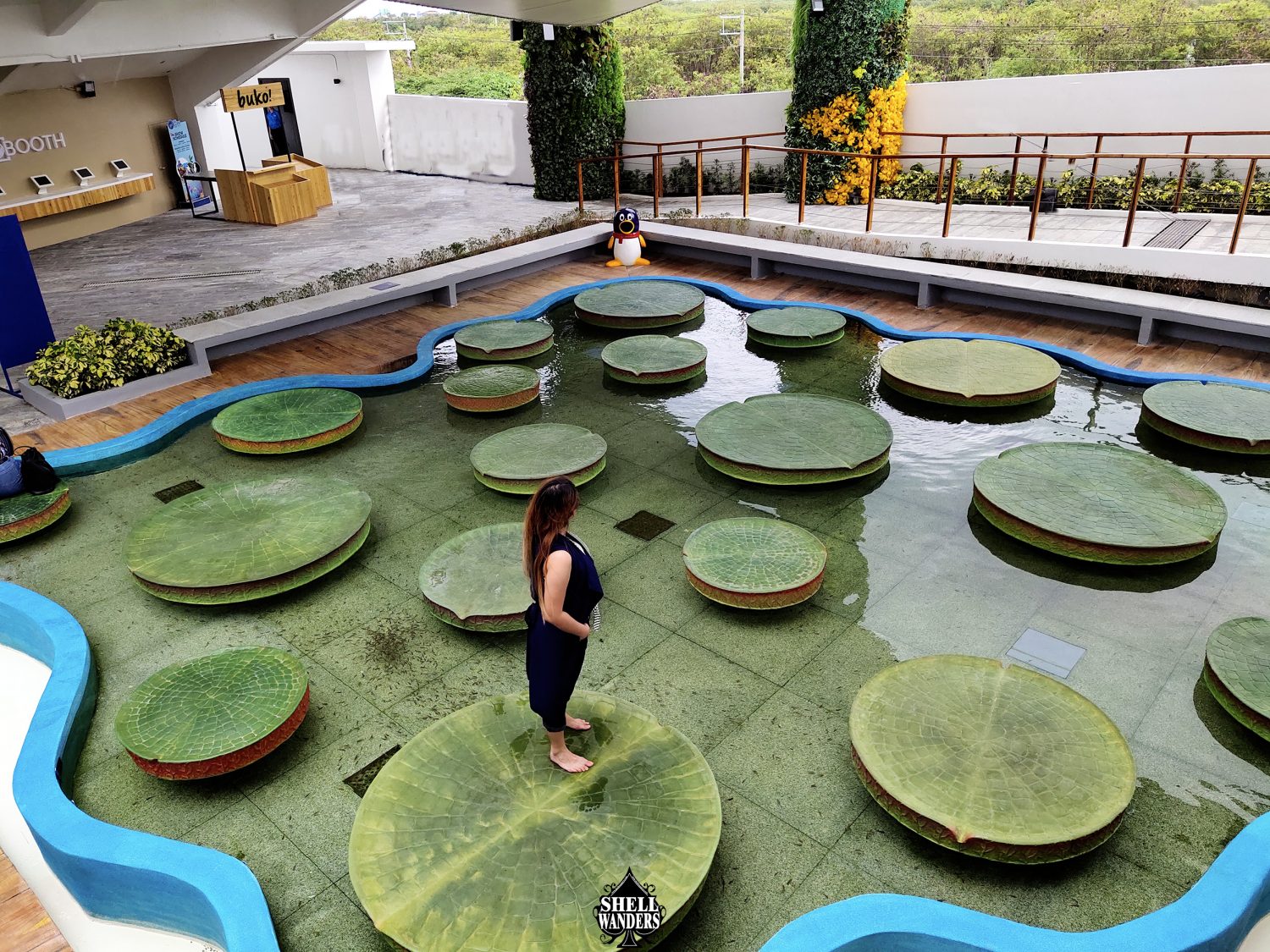 I love how the Ocean Park is so accessible when it comes to transportation and its in front of a mall which is pretty convenient. They have so many interactions that if you really want to access all, a day won't be enough for it.
Furthermore, they should really level up the biodegradable and non-biodegradable trash cans because I did not see one though during my visit.
I would definitely love to visit Cebu Ocean Park in the future again. This time, I'll bring my family with me.
Disclaimer: The entrance fee was sponsored by Cebu Ocean Par. All thoughts & opinions expressed in this post are solely my own and do not express the views or opinions of the sponsor.
Have you visited this Ocean Park? How was it? Share your thoughts below.
D YOU ENJOY THIS POST? PIN IT FOR LATER!!
XOXO,