Tumalog Falls, one of the hundreds of falls found in Cebu, Philippines.
Tumalog Falls, also called as "Toslob falls" or "Mag-ambak falls".It is situated in Barangay Luka, southern part of Cebu, Philippines. It takes approximately two and a half hours to get to the area from Cebu City.
Traveling to Tumalog Falls for the first time? This detailed and curated travel guide will make it easy for you to navigate your way inside, save money, and maximize your time.
Get Started
HOW TO GET TO TUMALOG FALLS
ENTRY POINT AIRPORT
✓ BY TAXI THEN BUS
Ride a taxi from the airport to Cebu South Bus Terminal. (Ride the white taxi because its cheaper than the yellow one)
Take a CERES BUS going to BATO via OSLOB. Fare (Php150-200 or $3-4).Time (3-4 hours bus ride). Tell the driver that you are going to TUMALOG FALLS in OSLOB.
You will need to take HABAL-HABAL or motorbike from the main highway in going to the Tumalog Falls. Approx PHP 30-50 or $ 0.6-1 pesos fare one way.
✓ BY TAXI
Ride a Taxi from the airport in going to Tumalog Falls. Just tell them you are going to see the the Tumalog Falls in Oslob.
Fare (Approx PHP 3,000-5,000 or $60-100).
MAP ON HOW TO GET TO TUMALOG FALLS
Philippines 3G/4G internet data sim card & pocket WiFi rental
See more blogs & travel guides
Pre- Travel Tips
✓ When is the best time to visit Tumalog Falls?
✓ Travel Must Haves
When is the Best Time to Visit Tumalog Falls?
Anytime of the day of every month.
Travel Must-Haves
✓ Google Map App – A life-saver for me because without it, I might get lost.
✓ Google Translate – Super powerful app. Translate anything.
✓ Sunscreen – Protect yourself from sunburn or much worse – Cancer.
✓ Pocket Wifi or Sim Card – The convenient of searching anything is a go-to. Please don't forget this baby. It is a life-saver for me though.
Tumalog Falls
As I see the sign saying "Tumalog Falls" , familiarity took over me. It just took over me that for a second glimpse, I remembered that I have been here 2 years ago. So it is my 2nd time visiting this place.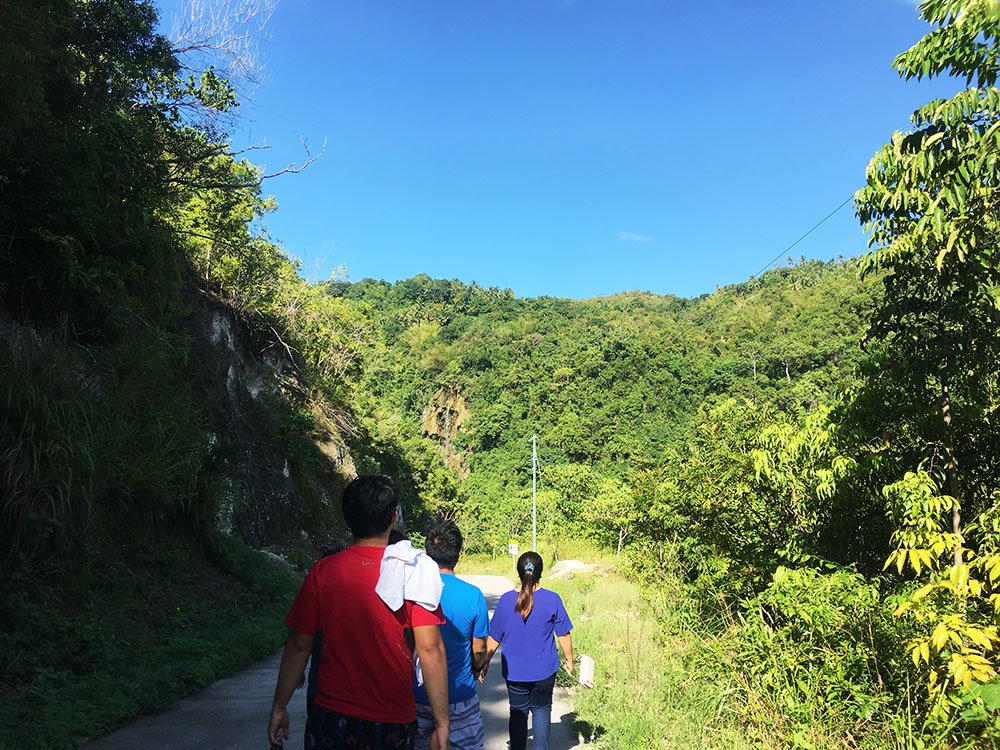 The parking lot is about 300 meters away from the falls. You get to decide whether to trek the road with an angle of negative 30 degrees or ride a motorbike. But we decided to trek anyway.
It was easier to go to the falls than to go back to the parking lot since the road leading to the site was going downhill. The above picture depicts the road that I was talking about.
You need to be careful in taking your steps because the road is very steep, you can continuously fall and hurt yourself. It was good that when we went there it wasn't raining because the road might get slippery and the surrounding of the falls muddy.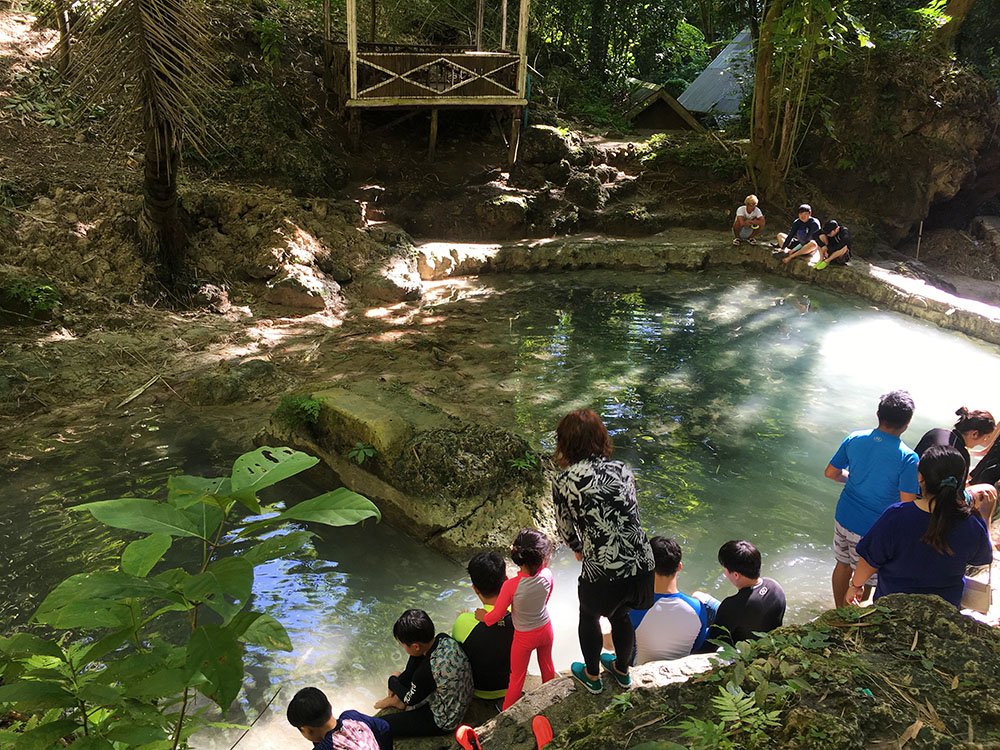 A small pool will greet you after the entrance. Fishes that eats your dead skin swims around the pool.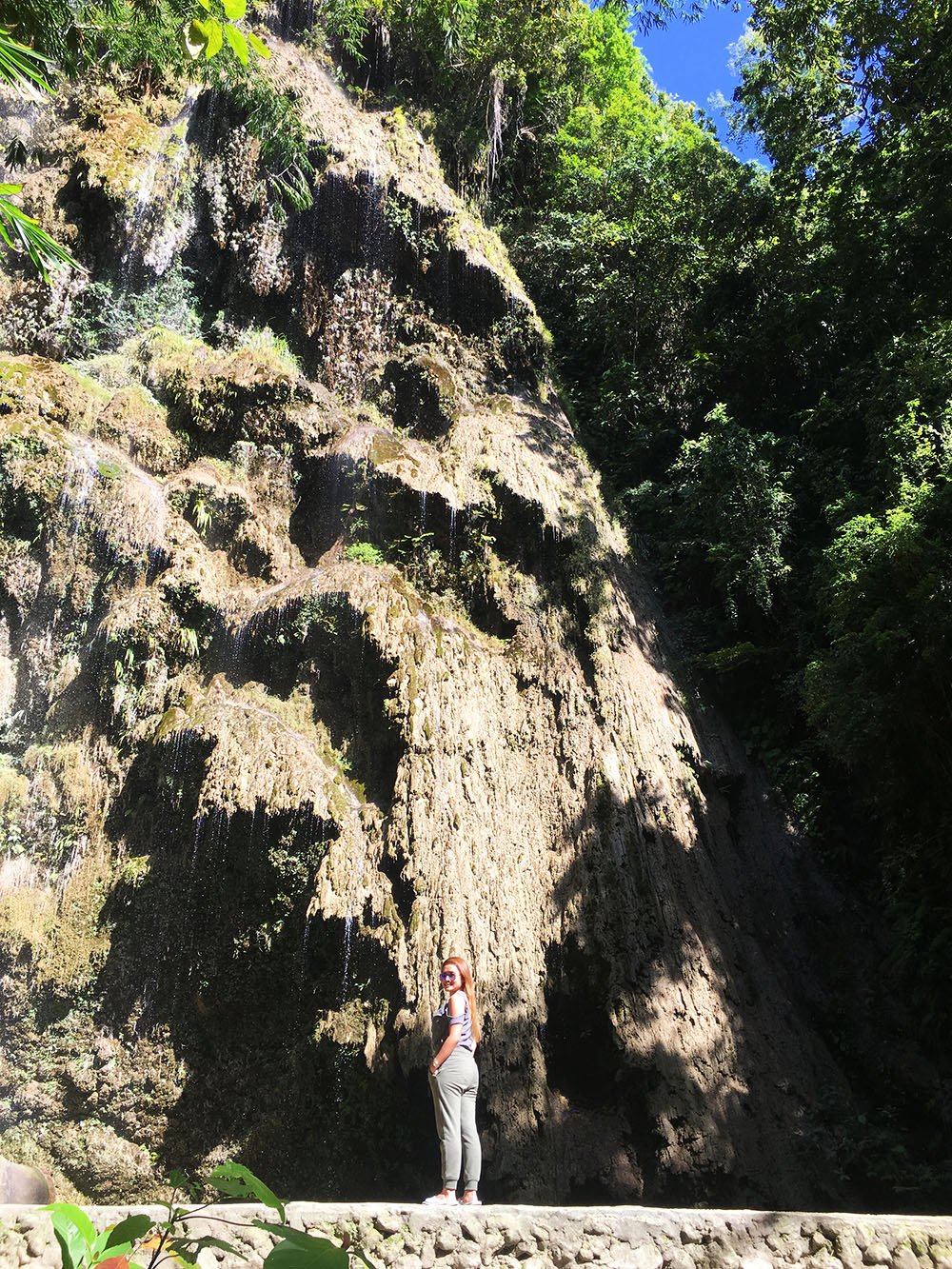 The falls is huge and gorgeous, although the water is actually murkier than some of the oceans surrounding the area (which makes sense). It stands tall at approximately 40 meters. However, the volume of water is much less such that by the time the water hits the ground, it is mostly fine mist or like a gentle summer shower. The water is very cold and refreshing.
Each time the sunlight strikes the falling water, a very visible rainbow would appear at it's base adding vibrant colors to lush greenery of the surrounding forest.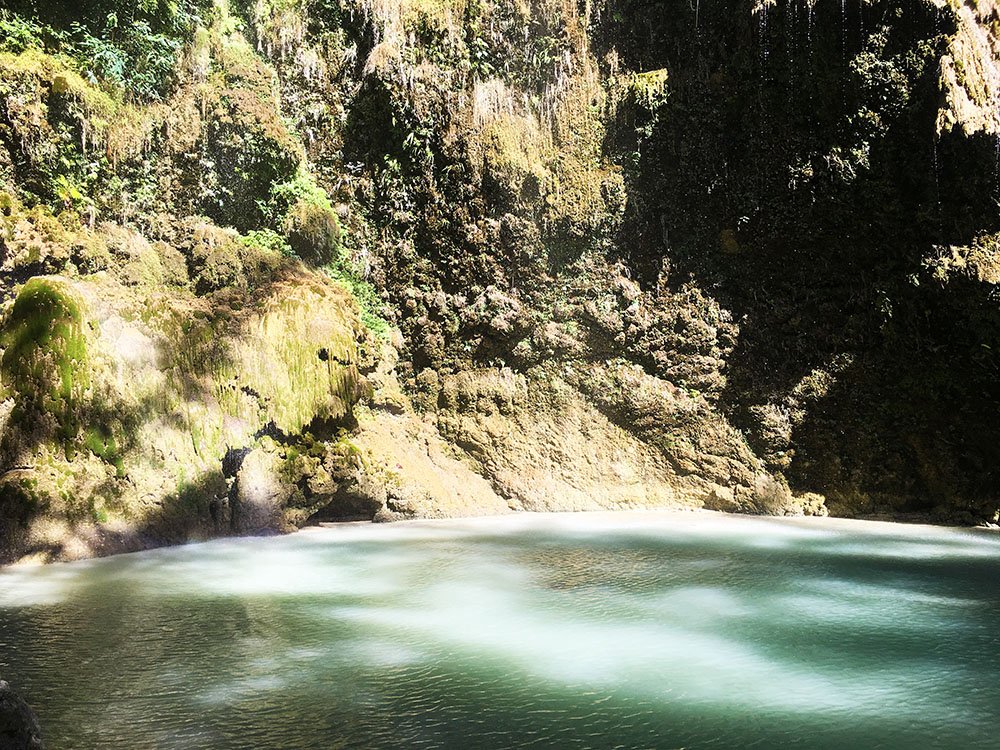 Obviously, the hike back is more difficult so we decided to ride a motorbike.
No need to spend more than an hour here, but it is well worth a visit if you are in the area.
EXPENSES
PHP 30.00 or $0.6 – Motorbike Fare from parking lot to Tumalog Falls (One-Way)
PHP 20.00 or $0.4 – Entrance to Tumalog Falls
OTHER INFORMATIONS
Travel Light
Opens at 6:00 am – 5:00 pm Daily
Bring water and some food, as options are limited.
Patience patience patience, it's an organized chaos. Leave any expectations behind and prepare to be surprised. 🙂
MAP TO HELP YOU LOCATE TUMALOG FALLS
Have you been to Cebu? Try Tumalog Falls! What's Next on your list?
DID YOU LIKE THIS POST? PIN IT !!
XOXO,